With summer on our doorsteps and staycation a reality for all of us, we can use easy tasty recipes. I was craving this summery, easy, super delish Belgian classic: cod with a breadcrumb and herb crust. It is probably one of the easiest and fastest yet wholesome recipes to make.
As part of a series of Belgian dishes posted every first Wednesday of the month, I vow to demystify these uber Belgian classics for you. Step-by-step I will show you what to do, this will have you successfully recreate those gorgeous rustic Belgian flavours you discovered in Belgium.
This is a one pan type of preparation and takes less than 20 minutes. It is light and easily adaptable to every season and every ingredient in season.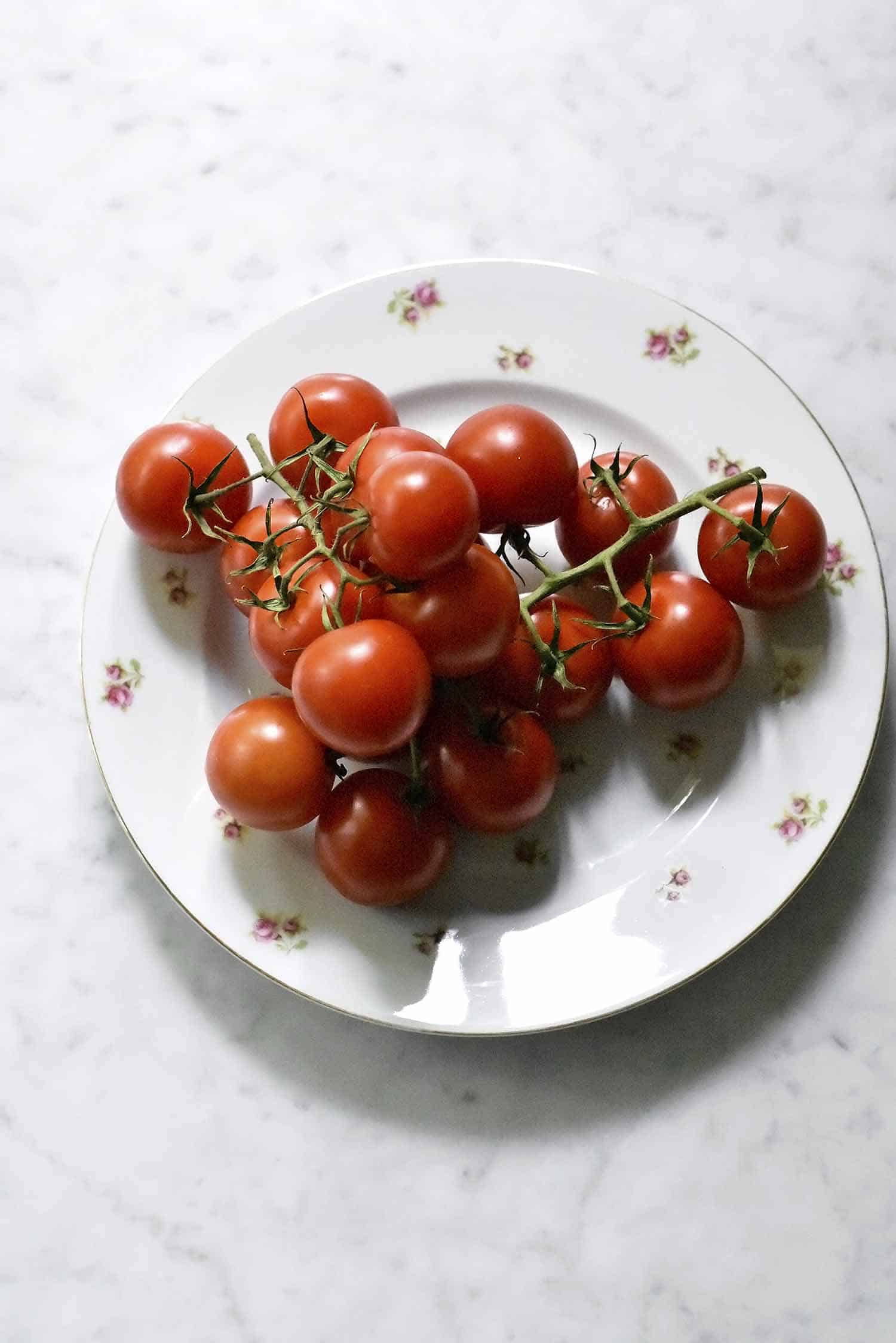 Summer means tomatoes for me, although if you planted tomatoes this March, your crop will come later in August but these babies were grown in a greenhouse so they are pretty full of flavour.
Flat parsley is one of my favourite herbs to use. There is always a jar with them around as I've a real hard time to grown them outside.
Chop the parsley real fine, add to the breadcrumbs (I used panko) with a table spoon of olive oil. And mix to combine. Add a nice layer on each piece of cod.
You can serve it with mash potatoes or couscous. If tomatoes are not your thing, courgette or eggplant are a good summery substitute.
Print
Belgian Classics: cod with breadcrumbs and herb crust
Yield 4 portions
Ingredients
120 gr cod per portion
200 gr cherry tomatoes for 4 portions
4 tablespoon breadcrumbs ( I used japans panko for extra crunch)
sprig flat parsley
2 tablespoon olive oil
1 lemon 
salt
Instructions
Brush a ceramic ovendish with 1 tablespoon of olive oil ( or butter). Score ( carve a cross) the tomatoes on the bottom so the juices can release easily when roasting. Place the pieces of cod, cherry tomatoes in the dish. Slice the lemon and add slices in-between the fish and tomatoes.
Mix the breadcrumbs, 1 tablespoon olive oil, chopped parsley and salt. Spread evenly over each piece of cod.
Season the tomatoes with salt. Roast for 10 to 12 minutes in a pre heated oven at 180C. Serve immediately.
Notes
on www.leeksandhighheels.com by Sandra Slawinski
Written and photographed by Sandra Slawinski with our commercial deals. I used my plates from my grandmother and vintage silver fish flatware.