I love peas, and when they are just sooo fresh, it's like candy! Hummus is an easy base of chickpeas and tahini, a sesame paste. You can add pretty much any herb or vegetable to it for pimping. And the gorgeous radishes in season dip beautifully  to give it some lovely crunch.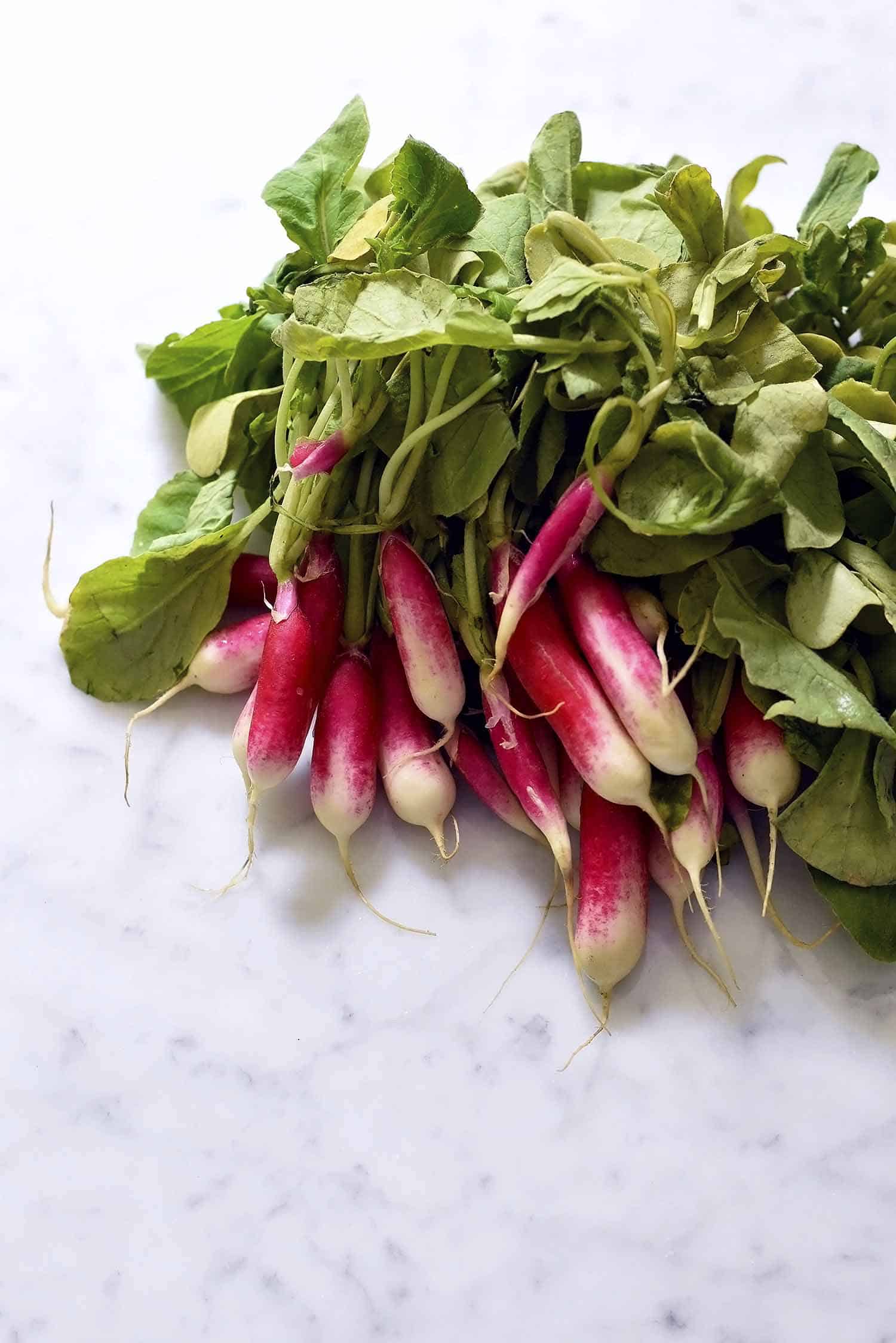 I shelled the peas myself, sooo fresh I had to stop eating them or none would ve been left to serve. I blanched the peas before adding them to the food processor just to ensure a smoother finish. Blanching means cooking for a very short time in a large pot of boiling water with a ton of salt. Why a lot of salt? To enhance the vegetables flavour in only few minutes so you need a lot of salt.
Blessed with fresh mint from the garden, I added a few leaves in the hummus and sprinkled some chopped mint over the dish before serving.
I grilled some young shallots to release that gorgeous sweetness
To make the hummus: in a food processor add a can of chickpeas with some liquid, blanched peas, tahini, mint, salt and olive oil and blitz till smooth.
I served it at a girls night in the garden, perfect to make in advance and easy to nibble at with some flatbread. I grilled the bread to add extra flavour to the store bought generic flavour.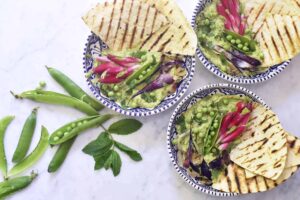 Print
My pea and mint hummus with seasonal veg
Yield 4 portions
Ingredients
200 gr peas fresh or frozen
240 gr chickpeas ( 1 can with the liquid)
1 table spoon tahini
4 large mint leaves
1 tablespoon olive oil
salt
flatbread (store bought or home made)
Instructions
Shell the fresh peas, reserve a few to eat fresh, and blanch them for 3 minutes in a large pot of boiling water with a good amount of salt and reserve. (for the frozen, follow packet instructions)
Add to a food processor: the chickpeas, the 1/2 of the chickpea liquid, peas, tahini, olive oil and 2 mint leaves and blitz. Taste and adjust the flavour with more mint, more tahini or more salt as you prefer. Adjust the constancy by adding more chickpeas liquid or olive oil.
Slice the fresh shallots and grill over high heat till soft and sweet. Grill the flat bread.
Wash the radishes and cut away the green. Freeze the greens to reserve for making soup.
To serve, add hummus to a lovely bowl, place a few shallots, radishes and reserved fresh peas. Serve with  grilled flatbread.
Notes
on www.leeksandhighheels.com by Sandra Slawinski
Written and photographed by Sandra Slawinski without commercial deals. I used bowls I bought on a trip to Tunisia many years ago.