As none of will be travelling much beyond our country's borders this summer, I pulled some favourite dishes inspired by far away places which one day I will visit again. This Niçoise salad reminds me of my many sun-filled weekends at the French Riviera.
I love the Mediterranean sea coast for its gorgeous, adorable, ancient villages proud of their food heritage. Nice and the French Riviera aka the Cote d'Azur definitely have a fair share of beautiful produce and delicious dishes celebrating the best of the best. I ve enjoyed many times their tasty dishes overlooking the sea in Saint Tropez, Juan-les-Pins and Antibes. (ah memories)
Summer is not quite yet here in Belgium ( officially 21 June) so some of the produce have not quite yet come in season. I spotted some gorgeous yellow tomatoes from France, salad, green beans and potatoes from Belgium and I instantly craved a Niçoise salad, my version at least.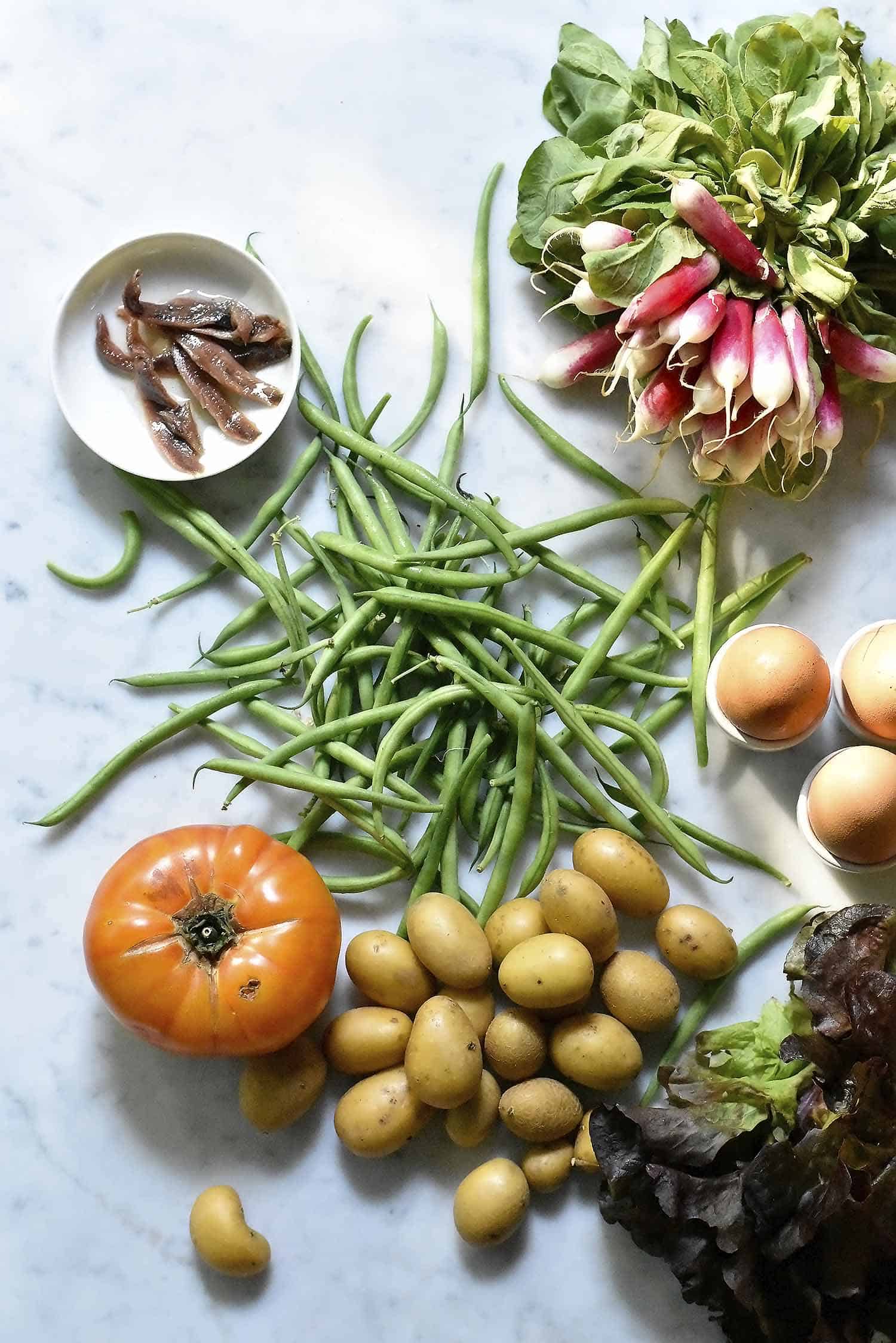 Every season can have a version of a Niçoise salad I think.
NIÇOISE SALAD – created in Nice traditionally with tomatoes, hard-boiled eggs, olives ( I didn't add any to mine) and anchovies or tuna. Get inspired and add anything you like. I love green beans tossed with sweated shallots and little potatoes, so in they go. This is served with a simple vinaigrette : olive oil, vinegar, honey, mustard and salt
TIPS:
Choose anchovies or tuna, not both.
Add any seasonal veg you like, I added radishes for crunch and colour as they just got in season.
Make a simple vinaigrette but only pour over when serving to avoid a soggy salad.
Add any salad leave you like : roquette, frisée, iceberg – I used oak-leaf as I had it in the fridge but it is not a must to have a salad leaf.
Think about colour and crunch. I used yellow ripe tomatoes, red/white radishes and green beans to pop the salad.
I prefer my eggs not hard-boiled but still ve a runny yolk, makes for a great oozy sauce mixed with the vinaigrette.
Print
My sun-filled Nicoise salad
Yield 4 portions
Ingredients
2 eggs, hardboiled with soft yolk
100 gr small potatoes like grenaille
200 gr green beans, steamed
10 radishes
a few salad leaves
1 tomato sliced or small cherry tomatoes cut in half
6 anchovies filets
1 table spoon butter or olive oil
for the vinaigrette: 2 table spoon olive oil, 1 teaspoon vinegar, 1 teaspoon mustard, 1 teaspoon honey or agave, pinch of salt.
Instructions
Slice the washed radishes in half and toss them fore a few minutes in a sauté pan with some butter or olive oil and reserve.
Put all the ingredients for the vinaigrette in a jar and shake to combine.
Place on a platter the salad leaves, green beans, radishes, tomatoes, potatoes and anchovies. Peel the eggs and add them to the plate. Serve with the vinaigrette. 
Notes
on www.leeksandhighheels.com by Sandra Slawinski
Written and photographed by Sandra Slawinski without commercial deals. Used my oval serving dish from ZaraHome, vintage silver salad utensils found on fleamarket, towel from Daylesford Farm shop London.