My name is Sandra Slawinski, I am Belgian (Flemish speaking) living in Brussels, Belgium. Born and raised in Ghent, Belgium but living now 25 years in Brussels. I have been a food enthusiast from a young age, always hungry, luckily my father was a Chef.
In 1980 my parents opened a gastronomic restaurant "Apicius" in Ghent and sometime after he had 2 Michelin stars. He passed away at age 43 in 1992 from pancreatic cancer. I devote a section of LHH to him, to inspire others and to remember him by.
Friends ask me what restaurant do I recommend, "can I get that recipe", how do you make this Belgian classic dish, where did you buy this spice, what is in season now, where did you stay in London, how can I master not being overwhelmed when throwing a party at home etc … hence LHH, with some answers, some tips, some suggestions…
WELCOME TO MY COOKING SCHOOL
CLASSES
At LHH kitchen in Brussels, Belgium
In the cooking class, you will learn what is in season, how to be more eco-friendly in the kitchen and how to cook tasty Belgian classics while sampling everything.
In my kitchen at home the intimate  hands-on cooking class starts with everyone putting on an apron, grabbing a cutting board, a knife and getting stuck in. We review the delicious menu and cook together a lovely Belgian and seasonal meal. We spend about 1,5 hr learning about seasonal and sustainable produce, eco-friendly kitchen tips and Belgian classic dishes from Flemish stews with beer, grey shrimp croquettes to waffles and chocolate mouse. Different cooking techniques will be demonstrated step-by-step from blanching, sauteing, searing to sauce making. After with a Belgian beer or Belgian bubbly in hand we kick off in the kitchen the gourmet meal with some traditional tasty bites. Take a seat at the beautiful laid table with view onto the open kitchen and get ready to be spoiled with a 4 course Belgian, seasonal menu with great wine and beer pairings.
This cooking and tasting adventure is served up for lunch from 11H to 14H and for dinner from 19H to 22H
It is taught in English, other languages spoken are French and Dutch.
Sign up alone, with your partner or with friends or colleagues, maximum capacity 6 persons per class.
price per person ranges by season from € 89 to €129
To inquire about availability, email me at Sandra@leeksandhighheels.com
Online masterclasses from 2020, coming soon classes on how to entertain at home and Belgian etiquette . Stay tuned.
SEASONAL YUMMY RECIPES
For you who wants to cook seasonal and balanced but maybe are stuck in a rut – I post seasonal, sustainable as much as possible, yummy and uncomplicated dishes for at home feeding your family or when hosting a party. Each recipe post has a FREE easy printable recipe sheet. Make a cup of tea and start browsing what you will cook tonight or this weekend. Start planning that party menu today! I share tips and tricks, cooking techniques and plenty more how-to tutorials as well.
For you who represents a cooking accessory brand, food retailer or kitchen attribute re-seller or a fabulous high heels brand. You who has an amazing product or produce you want me to share and shine on LHH and Instagram – Look no further I want to work with you! I can develop a recipe with your produce or use your product in my pictures. Send me an email at Sandra@leeksandhighheels.com and let's get the creative juices flowing.
TRAVEL AND FOOD REVIEWS
For you who is planning a little trip and needs some foodie advice where to stay or where to eat. Look no further, hit the TRAVEL section and start dreaming and planning! Also hekc out my sustainable travel guides, tips and tricks.
For you who represents a beautiful hotel, a fun cocktail bar, a yummy food place and gourmet shop – I am your girl to share your business and shine on my blog and Instagram. Send me an email at Sandra@leeksandhighheels.com and tell where to meet you and off we go!
I LOVE to entertain at home and no matter how many times I promise myself this time I will write down what I cooked, I never do. So I hope with this space I will finally have a record. The planning of a dinner party, afternoon tea party or "just" drinks, is a real joy for me! Setting the table: choosing table cloths, plates, bowls, glasses and flowers, gives me a high. My favorite moment: lighting the candles 15 minutes before guests arrival, tasting the wine, 5 minutes breathing in and out, everything is ready, planned with precision – dingdong – first guests are here, the show starts. What a thrill! I share with you some tricks for hosting without stress.
Why "leeks and high heels"? My dad's favorite vegetable were leeks and I always am in high heels especially when cooking.
In the PRESS
16 December 2017 – Le Soir & De Standard newspapers – My main course recipe for Bio Planet, Classic reinvented for the holidays.
6 December 2017 -Weekend Knack Online –  my tips and tricks and recipes of course, for stressfree yet festive holiday dinners. Shared online & social media.
17 June 2017 – De Morgen newspaper- Article about dad and his influence on today's young chefs.
BRAND AMBASSADOR – INFLUENCER – RECIPE DEVELOPER
from May 2019 – Sustainable Ambassador for Brussels (click HERE)- you can follow my efforts to reduce my kitchen waste every Thursday on IG stories and FB.
from September 2018 – Le Creuset Ambassador   (click here ) – I have been a huge van for many years and just love cooking in those bright coloured post and pans.
January to April 2018 – paid collaboration – Colruyt Brand Ambassador – creating yummy, seasonal and budget friendly recipes with their products. Recipes on the blog, Instagram & stories.
November to December 2017 – paid collaboration – Bio Planet recipe development – I created 3 recipes with their organic and fair trade products fitting the theme of Classics reinvented. Recipes on the blog, shared online & social media, in-store posters, recipe cards and folders.
August 2017 – Xavie's Granola – product review shared on the blog and social media.
May 2017 – paid collaboration – Colruyt Video of my food memory – I reinvented my dads ratatouille and had my mom join in the video. Video online, recipe on the blog, shared on social media.
May 2017 – Le Creuset competition winner – Tips on growing an indoor herb garden and preserving them. I won the best photo challenge. Shared on the blog and social media.
March 2017- paid collaboration – #Melkmoment recipe development – created a recipe using milk, my cod poached in jasmine tea infused milk is delish! recipe on the blog, shared on social media.
February 2017 – Le Creuset recipe development – created a one-pan coconut lentil curry  promoting their new pan.
December 2016 – Villa Kennedy Hotel Frankfurt – review of their hotel and Holiday menu's. Shared on the blog and social media.
September 2016 – The Tea Center of Stockholm recipe development – created 5 food and tea paring recipes. Shared on the blog and social media.
So what have I been up too so far:
My Lifestyle philosophy is about sharing time around food with family and friends. Making them smile and spending time together!
My career path has been a great journey towards opening my own business and creating my lifestyle brand and cooking school: LeeksandHighHeels.com 
After the death of my father and high school, my world was turned upside down and at 19 I decided to take my life in my own hands and move to the big city, Brussels, and forget university.  My mom got me a job interview at the prestigious Hilton hotel. 5 seconds later I was working in their brasserie. This was a failed ruse of my mom and the Chef to get me to come home and go to University. Despite my many, many tears and "OMG, what have I done" moments I powered on.  Soon I got promotion after promotion and LOVED working in hospitality. I worked myself up to middle management rather quickly and was even the youngest junior manager in the Hilton chain for a while. I was sent on a 6 months mission to Jerusalem and Bucharest to open 2 new hotels: recruiting staff, setting standards, teaching customer service and managing the restaurants in Jerusalem and the front desk in Bucharest. Hard work, but learned a lot – I was 25.
I stumbled upon my next job  through a temp agency. Back in Brussels waiting to be part of new hotel opening in France, I walked into a temp agency just in case it would not work out. BOOM, I temped 3 months and I was hired full time in 1999 at a Diplomatic Mission in Brussels where I still work (for now) 20 years already. Over a decade now I am the Director of Travel and Visits. I ensure our high level visitors are well taken care off: from their favorite drink to booking hotel rooms and suites – from restaurant suggestions to finding a large speech venue –  one day negotiating hotel rates, the next being at the airport greeting VIP's. I also take "the show" on the road around the world. I love my job!
Now my brand – it's here, tedadaa – and it was soul searching to get to this point – PROUD – LeeksandHighHeels.com here you find my travel notes and foodie places to put on your bucket list but also my own recipes. I travel a lot for work and love little weekend breaks; food and hotels are always a priority! I have very high standards and expectations when it comes to hotels and don't mind spending a good junk of my hard earned money on them but they have to deliver!                                          When I cook at home, almost daily, I like easy, fast and fresh dishes. I use seasonal ingredients sustainable as much as possible and with lots of fresh herbs and spices, as well as low in salt. But don't get me wrong I aim for balance and that includes cake and fries – MUST.
At 19 I boiled my first egg!      Yep, daughter of 2 Michelin star Chef but I was not allowed in the pro-kitchen. My dad , ever the tyrannical Chef, didn't want to teach me how to cook . As rebellious teenager I went behind his back and decided to bake a cake one day. Still today my mother and brother laugh about the result as …well … let's just say it was a disaster. When I moved to Brussels,  for the first time I had a normal domestic kitchen in my rental and started to cook.
I am a self-taught cook: devouring cook books, ferociously watching cooking shows on TV combining that with years of watching my dad, I just love it. I have followed many cooking classes to perfect my technique in baking, sauce making and whatnot. And now am working on getting my degree in nutrition. So excited!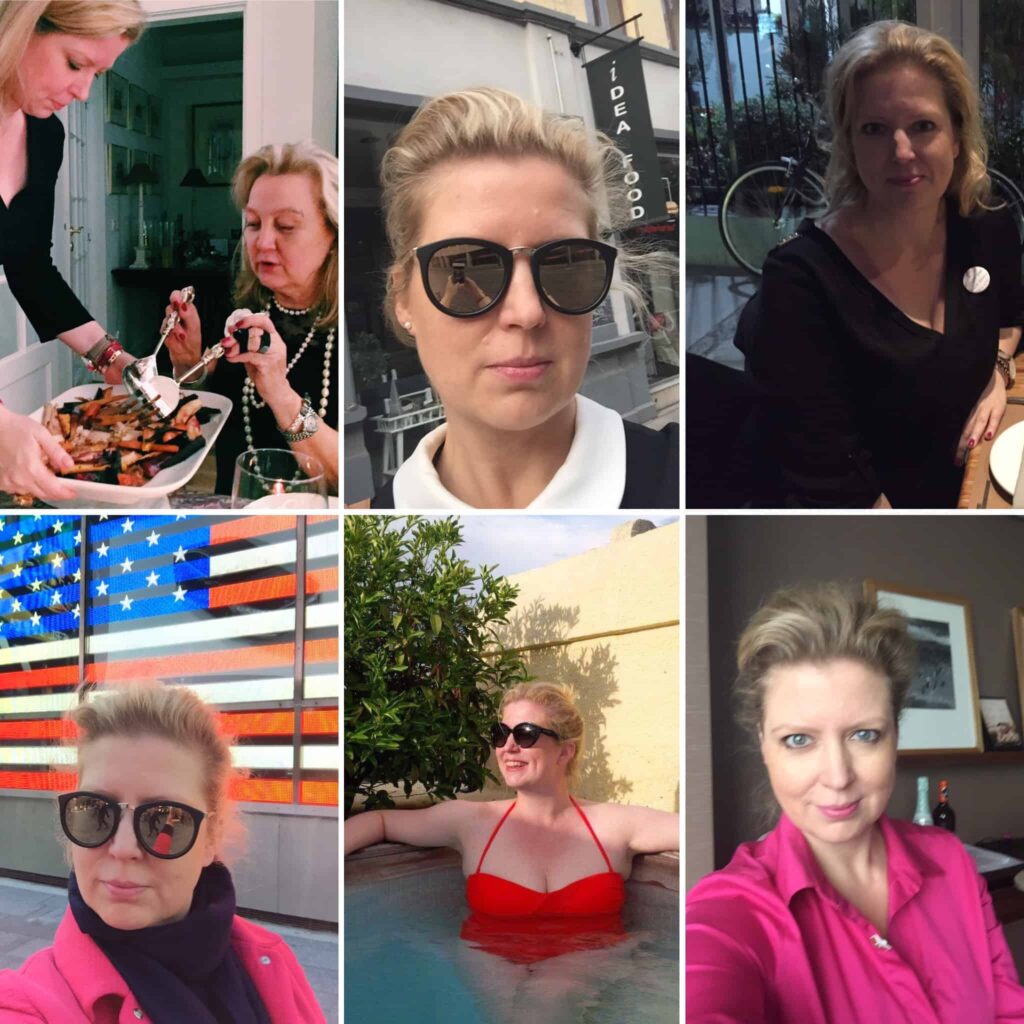 Today my love for entertaining at home is stronger than ever and it is what I cherish the most. Brainstorming what to cook, what wine to serve, getting the best products at local markets and specialty shops, setting a beautiful table, making it special for all my guests – what a joy!
Thanks for stopping by and enjoy. And feel free to send me a note at sandra@leeksandhighheels.com or find me on Facebook . Or check out my pins here or have a look at my Instagram account!