I love living in Brussels, my home since 1994 – yep already 25 years . Brussels is hub for European institutions, NATO and many corporate HQ's, making it definitely multicultural. Yet it is an European capital like none other. You can not only find every type of cuisine, every type of ingredient you are looking for but you can also live sustainably well.
If you are a regular reader than you already know I WILL TRAVEL FOR FOOD. I am a REAL food ENTHUSIAST so when I travel I do extensive research online and consult fellow foodie friends to find out what food places are a must. I like discovering new flavours, tastes, concepts and Chefs. And whenever possible I  commit to organic, seasonal, local and sustainable .
Brussels is blessed with a great bicycle, bus, tram and metro network for a reasonable price. Also sharing vehicles is available in different forms, so I have no need for a car in Brussels. Yes, it requires some time and detailed planning  but I really don't miss having a car. The journey on the tram I see as me-time where I get to read and be on the insta. Or I walk home while brainstorming with myself and discovering new places.  I never have to look for a parking spot nor worry about having wine with ( before and after ) dinner. When in need of some fresh air and a bit of a green walk, I can easily get to one of the 40 parks in the Brussels region and plot down for a pick-nick.
More and more I make significant efforts in reducing my part of harming the planet by making conscious choices about my food and where it comes from. A major pet-peeve of mine ( all my friends know, I am mental) I just can't eat food out of season, just can't. And lucky for me Brussels offers a variety of organic shops and farmer markets.
Are you looking to come and visit Brussels and you are a conscious foodie like me, here is my sustainable foodie guide to Brussels. ENJOY!  (click on the places to get to their website)
---
Just a quick VOCAB reminder :
SUSTAINABLE – also called GREEN LIVING. Products/goods are made with eco-friendly resources such as sustainable grown crops or recycled materials. They provide environmental, social and economic benefits while protecting public health and environment over their whole life cycle, from the extraction of raw materials until the final disposal. Also while traveling this way of life can be adopted and Brussels is definitely doing it's best to offer you that. Low impact living on the road can be a challenge with a little research you can make a difference.
---
THE ultimate LHH sustainable FOODIE ITINERARY
Saturday Morning : Head over to the GRAND PLACE area, the city historic center. Get a few selfies in and than stock up on sustainable goods and goodies at FÄRM on Place Saint Catherine. In 2013 the first shop opened and the sustainable friendly COÖP was created. You can shop at your and the planets delight and even become part of the change and invest in the coöp. I love their dry food selection; I love reading packages and learning more and more and more about the origins of my food and what's in it! Also great selection of Belgian products: pick up some Belgian chocolate and this amazing ginger drink I am addicted too.
A 7 minutes walk from there, ( check out the gorgeous Grand Place ) pop into the Herboristerie Moderne  to pick up some medicinal and essentials oils. The original herbal shop opened in 1905, this modern adaption helps fight all those modern woos.
Lunch :  I got 2 options for you. Option one:If you are looking for a quick salad, sandwich, bowl of soup or quiche in a Belgian traditional bakery style, head over the Pain Quotidien ( Daily bread) I know there are now all over the world, but it is still Belgian, totally organic and sustainable and well totally yummy.  Option two: Looking for a 3 course organic and seasonal  "eat-what-we-cooked" type of lunch for € 22, check out Les Filles. They let you help yourself in the kitchen and happily adjust for the veggie exclusives. If you got time, they have a bunch of fabulous and convivial cooking classes you can sign up for as well.
Afternoon : Head over to the SABLON- NAMUR area and enjoy browsing in the antique and vintage shops and the market ( open Saturday & Sunday).
I love stopping by my favourite lady who sells silver old and new.  Walking up towards Porte de Namur area, get some skin, hair and body care essentials from AESOP. This Melbourne, Australia based company recently opened a shop in rue de Namur and is worth a little stop. Natures best from plants, herbs, fruits and nuts are used in their products making them simply divine. I love their Immediate Moisture Facial Hydrosol and hair and shower products. Their charity foundation also fosters literacy, storytelling and diversity. ( if you love art, check out the museums along the way)
Tea time: I like to take a little break from the street bustle and enjoy a cup of comfort at COMPTOIR FLORIAN  . The wide range of coffee and teas has been delighting us since 1897. They have a wide selection of organic tea as well as gorgeous accessories. It is such a serene place where cellphones must be silenced and phone calls have to be taken outside.
Head over to LOUISE area pop in for some sustainable and Belgian fashion in JUTTU before you hit the Dutch no-plastic, interior store Dille&Kamille in rue Stas. I dare you to leave the store without buying anything, it is impossible. It is my favourite zen space where I feed my addiction for weck jars, brushes, herbs, plants, utensils, … and dishtowels.
Quench your thirst: you love BEER, than look no further than MONK , catch some live music and try their lovely, local assortment of IPAs. You love WINE, check out Chez Tarzan (the bar) and Jane (the shop) for delish organic wines only and lovely bites to nibble on.
Dinner: Here are 4 of my ultimate, seasonal-produce only, favourite places for dinner ( make sure to book in advance):
After dinner drinks:  stop by for a cocktail at LIFE IS BEAUTIFUL where plants and cocktails coexist in a super cosy setting. LA PHARMACIE ANGLAISE is the best evidence of what re-purposing of a space can do: it was pharmacy since 1900, it was on the brink of being demolished and they turned into cocktail bar ideal for intimate conversations and shaken and stirred potion tastings.
Have a restful night, recharge and get ready for Sunday morning in Brussels.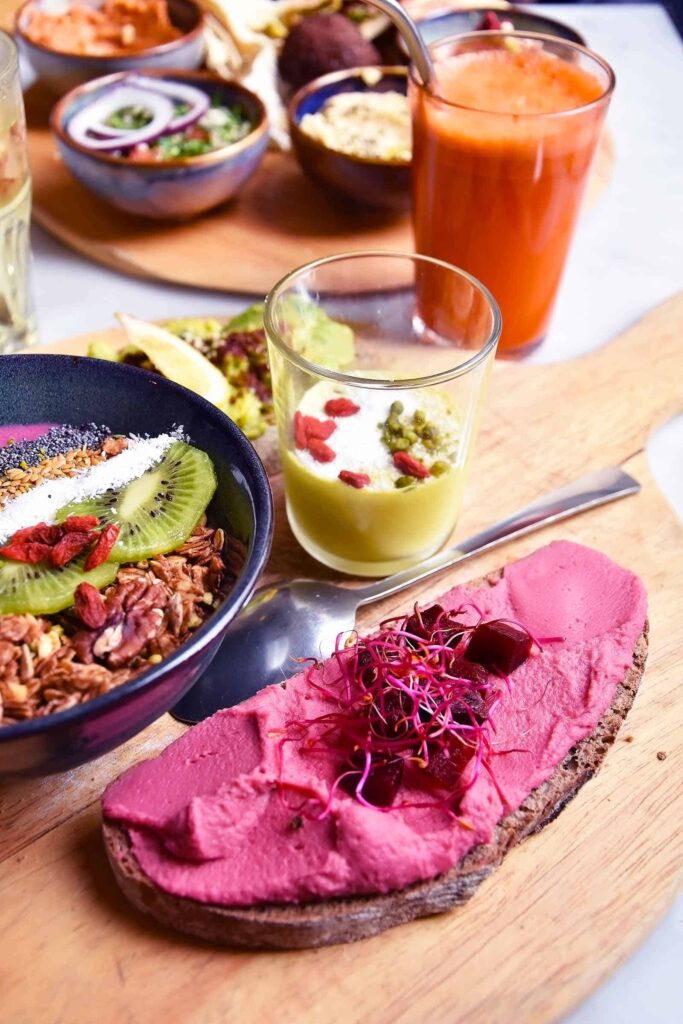 Sunday morning: You probably want to book a room with breakfast, but my advice is don't! And make a reservation at CHYL café for brunch. Their formulas for brunch are simply to die for. Make sure you get one of their fresh juices ( my fave is detox) and enjoy for €23 a fabulous moment. On the way out check out the organic store ( they also have rooms to stay by the way). It is a fun, friendly and sustainable place that sparks joy.
Head over to place JEU DE BALLE area for some vintage shopping while rummaging through stuff on the market square. Check out the many shops on rue Haute and rue Blaes. One of my favourite upcycle shops is called Incognito (298 rue Haute). Before you head home, stop by COCO DONUTS near the Sablon for a little  homemade treat to take with you.
---
BRUSSELS BASIC INFO
GET TO BRUSSELS
TRAIN: International trains arrive at the MIDI station ( also called Zuid – South). Domestic trains can also arrive at CENTRAL station. There is a north station but I recommend you avoid that station for security reasons.
MOBILITY IN BRUSSELS
PUBLIC transportation: tram, bus and metro are on the same STIB network and the same ticket can be used for all. Buying a day ticket gets you unlimited access for 24hrs for €7.50 (€14 for 48hrs).
BICYCLE rental: Every 450 m you can find a bike station in downtown Brussels. You get 30 minutes for free, the basic fare is €1.60 with a maximum addition of €2 if you use the bike more than 2 hours.  Check out VILLO   – also plenty of scooters /steps and other bikes are for rent on street corners.
PILLOW TALK
Several hotels in Brussels have been awarded a "GREEN KEY" international eco-label, this rating is based on their environmental management, waste management, water, energy, green open spaces, food and mobility to name a few. Check out the list HERE. There are plenty of bijou and eco-conscious hotels and B&B's to lay your head.
CITY FUN
Book your own local to take you around town on foot HERE, or on a bicycle HERE. Or check out more cultural options around town on visitBrussels.
---
EXTRA SOURCES
https://www.brussels-gardens.be/
https://www.goodfood.brussels/
https://www.recepten4seizoenen.be/
http://www.leefmilieu.brussels/
https://www.goodplanet.be/nl/
---
Written and photographed by Sandra Slawinski without commercial deals. THANK YOU Nia, my BFF, for posing and coming on this journey through Brussels, we had a blast!