This is definetely NOT a traditional gazpacho, so my friend Lucia would call this a cold soup not gazpacho. The reason is I like throwing in all kinds of veg and fruit and I don't use garlic nor peppers in mine.
I oven roast the tomatoes, radishes and onions before blitzing them as the radishes become more peppery, the tomatoes are so much sweeter when roasted and I really don't like the taste of raw onion .
I added fresh cucumber, watermelon and flat parsley.
One of the spices used in Andalusia in gazpacho is cumin, so I added a good amount to bring out the Mediterranean flavours.
I used: cucumber, tomatoes, onion, watermelon and flat parsley.
Blitz all of it together till smooth and season, don't forget to taste and adjust !
Cumin is a spice commonly grown in the Middle East stretching to East- India. The Greeks, the Romans, the Persians and the Spanish all traded it at some point. It was kept on the table in its own container like paper is today.
Gazpacho in the garden is a real summer treat. When i close my eyes I can almost hear the mediterean sea waves and feel the hot sun on my face.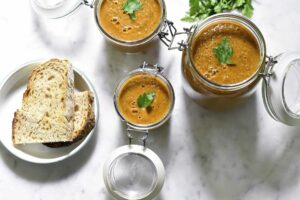 Print
My summer veg and fruit gazpacho
Yield 4 portions
Ingredients
1 onion, diced
5 tomatoes or equivalent depending availability  
1 cucumber, diced
1/4 watermelon, diced
1/2 bustle flat parsley
2 tablespoons ground cumin
2 tablespoons olive oil
salt and pepper
Instructions
Slice the tomatoes in half and lay in a baking dish, add the diced onion and radishes. Roast for 15 minutes in preheated oven at 180C. Remove and let cool.
In blender, blitz the diced cucumber, watermelon and parsley. Add the cooled tomatoes, onion and radishes. Add the cumin, blitz to combine.
Taste and season with salt and pepper ( more cumin if preferred) and serve cold with toasted bread.
Notes
on www.leeksandhighheels.com by Sandra Slawinski
Written and photographed by Sandra Slawinski without commercial deals. I used my jars , small dish and kitchen towel from Dille & Kamille & my vintage spoon gifted by a dear friend Laurence many many moons ago.