Glorious white asparagus are in season now and this floral salad is all about celebrating spring!
Combining spring purslane, micro shoots, edible flowers and white asparagus makes a perfect salad. I used a simple vinaigrette to hero spring ingredients.
TIPS & SWAPS:
If you can't find white asparagus, replace with green ones. The white asparagus season runs from end April to mid June.
Swap purslane for Amy seasonal leaf of your preference.
Micro greens can be replaced by fresh herbs like sorrel, chives and oregano.
Add burrata or mozzarella for a creamy texture.
Top with some shrimp or cured ham.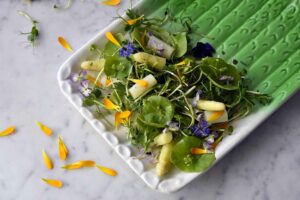 Print
My floral white asparagus salad
Yield 2 portions
Ingredients
5 asperges per person, peeled, steamed and cut in 3 cm pieces
handful of purslane leaves, washed
handful of micro greens, washed
as many edible flowers you can get: calendula, borach, violets, kohlrabi flower.
2 tablespoon olive oil
1 teaspoon vinegar
1 small shallot, diced
salt and pepper
Instructions
For the vinaigrette: combine olive oil, vinegar and shallot in a jar, shake and season with salt and pepper to taste. Reserve.
Combine in a bowl the asperges, purslane, micro greens and toss with the vinaigrette.
Plate up and add the flowers.
Notes
on www.leeksandhighheels.com by Sandra Slawinski
Created, written and photographed without commercial agreements by Sandra Slawinski. I used my vintage asperges plate.