I just LOVE spring, every couple of weeks a new fruit and vegetable comes in season and it's just so FREAKING amazing! I made this spring salad with grilled baby lettuce, crisp radish discs, white asparagus, spice-roasted cauliflower, lovely chive flowers from my friend Flavio's balcony and crunchy croutons topped with a mustard and strawberry vinaigrette. Perfect lunch!
This a total veggie dish but you can easily add some French twist with Comte cheese cubes and lovely cooked ham slices. Of if you feel more like fish, add some sweet smoked salmon.
BABY LETTUCE – lettuce can be grown all year around but generally harvested between April and September. It is super easy to grow and after a few weeks baby lettuces can be picked and enjoyed.
and any dressing as you prefer – check out a few my 5 minute recipes with a twist HERE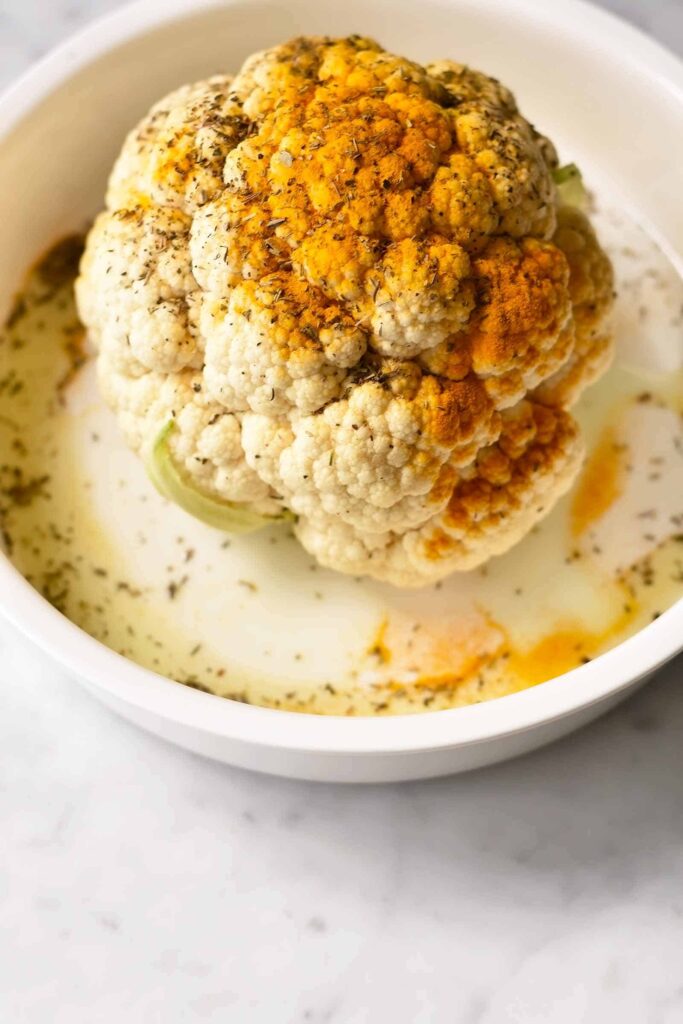 STEP 1: Splash a bit of olive oil over the cauliflower. Dust the cauliflower with your favourite spices, I used herbs de Provence and turmeric but cumin, raw-el-hanout, curry, and plenty other spices work just fine. Roast in the oven fro 40 minutes.
STEP 2: Cut in half the baby lettuce and grill for a few minutes on a hot grillpan.
STEP 3: For the dressing : Smash a few strawberries in a jar, add 1 table spoon of balsamic vinegar, 1 teaspoon of mustard and shake to combine the vinaigrette. Try 5 more dressings made under 5 minutes click HERE.
STEP 5: Pick chive flowers to top the salad. Fry some bread in live oil. Just throw it all together and top with the vinaigrette. Best to serve the vinaigrette separate to avoid soggy lettuce leaves. (thank you Flavio for the chive flowers)
Print
My spring salad with grilled baby lettuce
Yield 2 portions
Ingredients
4 baby lettuce
1 bustle radishes
1 cauliflower
6 white asparagus 
2 slices of bread
2 chive flowers
olive oil
spices: herbes de Provence and turmeric
salt and pepper
4 strawberries
1 table spoon balsamic vinegar
1 teaspoon of mustard
Instructions
Cut away the green leaves of the cauliflower, place in oven proof dish and splash with olive oil. Dust with spices, salt and pepper. Roast in the oven for 40 minutes.
Cut the baby lettuces in half and grill them in a hot grillpan for a few minutes. Remove and cut off the bottom to release the leaves and toss into a bowl.
Heat olive oil in a non-stick pan and fry small bread cubes till golden. Keep your eye on them as not to burn them, it goes super fast!
Crush the strawberries in a jar, add the vinegar and mustard, shake and taste. season with salt and pepper.
Add to the baby lettuce leaves: the cauliflower rossettes, asparagus, radishes, croutons and chive flowers.  and serve with the vinaigrette. 
Notes
on www.leeksandhighheels.com by Sandra Slawinski
Written and photographed by Sandra Slawinski without commercial deals. I used all my plate and weck jars from Dille & Kamille, Le Creuset grill pan, Mustard from Ghent Tierenteyn, my favourite.