I love trying different cuisines and no better time than a grey winter day to discover Egyptian Dukkah.
This nuts and spice blend is so versatile and easy to make, I am ashamed I have not made it before.
My version today is with pistachios and rose petals, because I love pink and well why not add rose petals?
You can use Dukkah to spice up any dish really,…
… like avocado salad, roasted winter vegetables, your morning cereal or add it to chicken couscous or like me sprinkle it onto a winter fruit bake. Add crunch to your hummus or add it to honey roasted beets and yogurt. I am mean truly you can serve this with everything. So make a batch, keep it in a jar in your pantry and you will use it every day, I guarantee.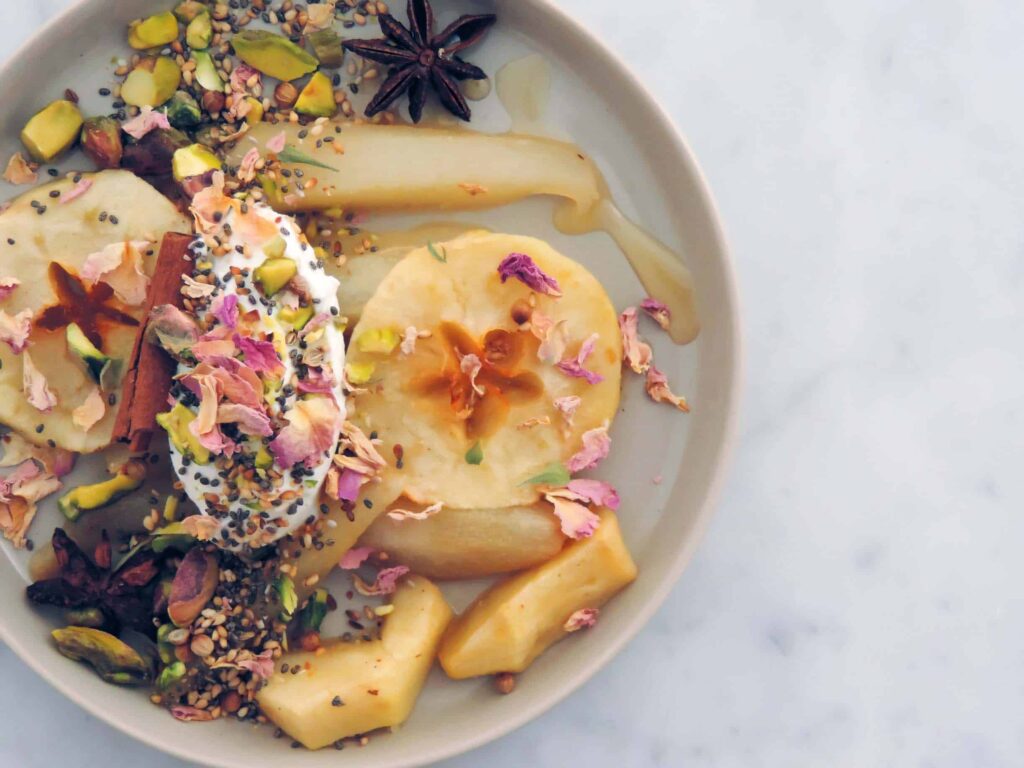 Print
Pistachio and Rose Petals Dukkah with Winter Fruit
Ingredients
1 cup pistachios, shelled, roasted, unsalted
2 table spoons sesame seeds, toasted
4 table spoons coriander seeds, crushed
1 table spoon chia seeds
3 star anis
3 cinnamon sticks
6 cardamon pods, crushed
1 apple, peeled and sliced
1 pear, peeled and cut
1 table spoon Greek yogurt
1 tea spoon honey
Instructions
Mix the pistachios,  sesame seeds, chia and coriander seeds.
Add the cinnamon, cardamon and star anis to apple and pear on baking tray. Bake in pre-heated oven at 180C degrees for 15 minutes, stir once.
Serve the fruit sprinkled with the dukkah, add Greek yogurt and add rose petals. Drizzle the honey.
Notes
Recipe on www.LeeksandHighHeels.com by Sandra Slawinski
Written and photographed by Sandra Slawinski without commercial deals. I used my Le Creuset pestle and mortar.