This dessert is all fruit and spices, no added sugar yet super sweet and cheerful. A great alternative when taking a break from sweets in this very festive season full of treats.
I am not a big baker but I love roasting fruits to uncover their sweetness and add a few spices et voila a fabulous dessert!
Exotic fruits are in season as where they grow it is summer now, so indulge as much as you want.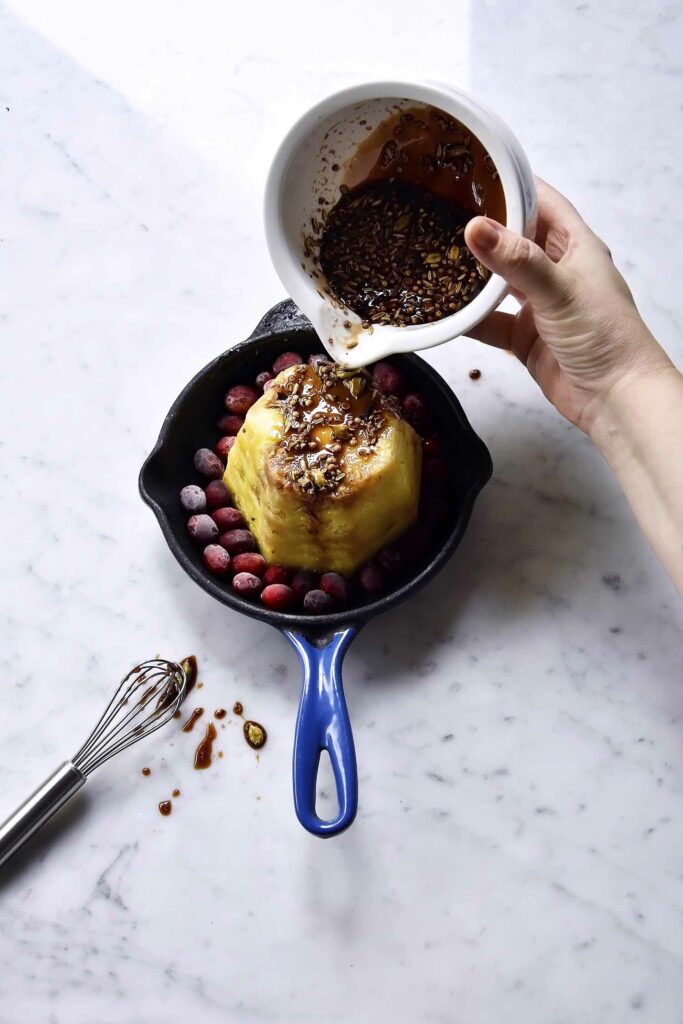 Print
My roasted pineapple with pomegranate molasses and spice glaze
Yield 4 portions
Ingredients
1 pineapple
100 gr cranberries ( can be frozen)
50 ml pomegranate molasses
1 tea spoon of nutmeg
2 tea spoon of coriander seeds
1 tea spoon of ground ginger
4 cloves
4 cardamon pods, cracked
1 star anis or 1 tea spoon of fennel seeds
Instructions
Remove the peel from the pineapple and place vertically in a baking dish or cast iron pan.
In a bowl add the spices and the pomegranate molasses, mix to combine.
Pour the glaze over the pineapple.
Add the cranberries at the base of the pineapple.
Roast in pre-heated oven at 180 C for 25 to 40 minutes depending on size of the pineapple. And baste the pineapple every 10 minutes.
Strain the glaze and serve a slice of warm roasted pineapple with some roasted cranberries and some of the glaze.
Notes
on www.leeksandhighheels.com by Sandra Slawinski
TIPS & SWAPS:
you can use any spice you like or swap the ones you dislike. Cinnamon or vanilla can be used to swap.
I always ve some cranberries in the freezer, you can add them frozen to the oven.
You can reheat the pineapple or finish cooking last minute, just pour over the glaze for extra flavour.
Swap pomegranate molasses for regular sugar molasses or honey for extra sweetness.
Written and photographed by Sandra Slawinski without commercial agreements. I used my Le Creuset pan and ZaraHome tea towel.