"in the middle of dead winter" – gosh I think everyone knows instinctively what this means. And indeed when you eat seasonal and local produce, winter can be daunting and quite frankly boring. I love root veg but 4 times a week requires a bit of novelty. Hassle-back baking them in the oven gives them a beautiful crispness.
HASSLE – BACK – is a Swedish way to bake potatoes by slicing thinly into the potatoes till halfway and topping them with pretty much anything.
ROOT VEGETABLES – I used sweet potatoes, parsnip, carrots, beetroot and potatoes ( and a few onions).  But this technique works well with butternut, pumpkin, celeriac and turnips. Basically any hard root vegetable that normally would require to be parboiled or a long bake, can be sliced to cook fast and crisp up.
NOTE:
Use 2 wooden spoon handles to guide you while you slice, so you are not able to slice all the way through.
Top the veggies with  chopped fresh thyme or rosemary. Add a little sour cream or yogurt dressing to make it fresh.
For a veggie lunch or dinner: serve the hassle-back veg with any winter leave like radicchio or grains like rice or freekeh or with seeds like quinoa.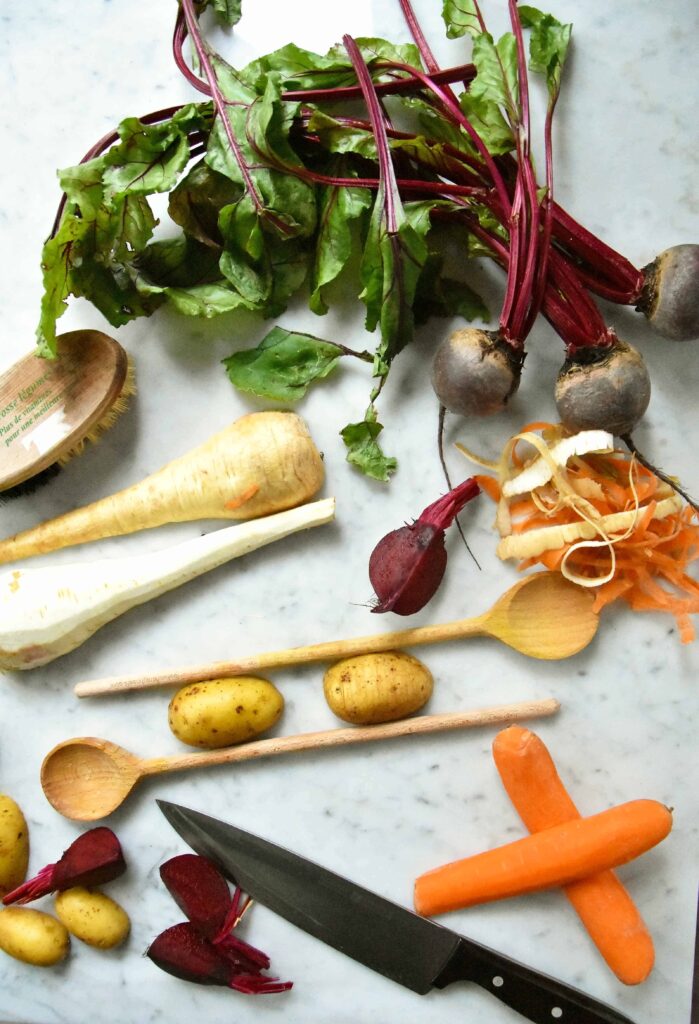 Print
My hassle-back root vegetables
Yield 4 portions
Ingredients
root veg like beetroot, parsnip, carrots, sweet potato, potato, ...
2 table spoons of vegetable oil
Instructions
Scrub clean the root veg, peel when needed. Cut in half or quarters. 
Slice the back of each cut veg thinly almost to the end but not all the way.
Splash oil over the veg, season with salt and pepper. Bake in preheated oven at 180 C for 30-40 minutes. Serve immediately when out of the oven.
Notes
by Sandra Slawinski on www.leeksandhighheels.com
Written and photographed by Sandra Slawinski without commercial deals, I used my plate Royal Boch vintage from my fiend Pascale's family, spoon & towel Dille & Kamille