Winter brings us plenty of cabbages, this purple and white one ended up in my very colourful coleslaw. Lots of cutting but so incredible therapeutic.
In depths of winter, I crave colour and freshness on my plate and this no-mayo coleslaw does the trick. Great as a side, lunch or on a sandwich.
SWAPS & TPS:
I made a vinaigrette but you can swap this for a yogurt or cream or mayo- based dressing. Or add a fruit juice like pineapple or clementine.
Only add the dressing when you will eat the lot. Otherwise keep the dressing separate and only pour over when needed.
Add some pickled radishes for an extra tangy crunchy flavour.
Add some spring onions for a green zing.
Add some fresh coriander for extra flavour.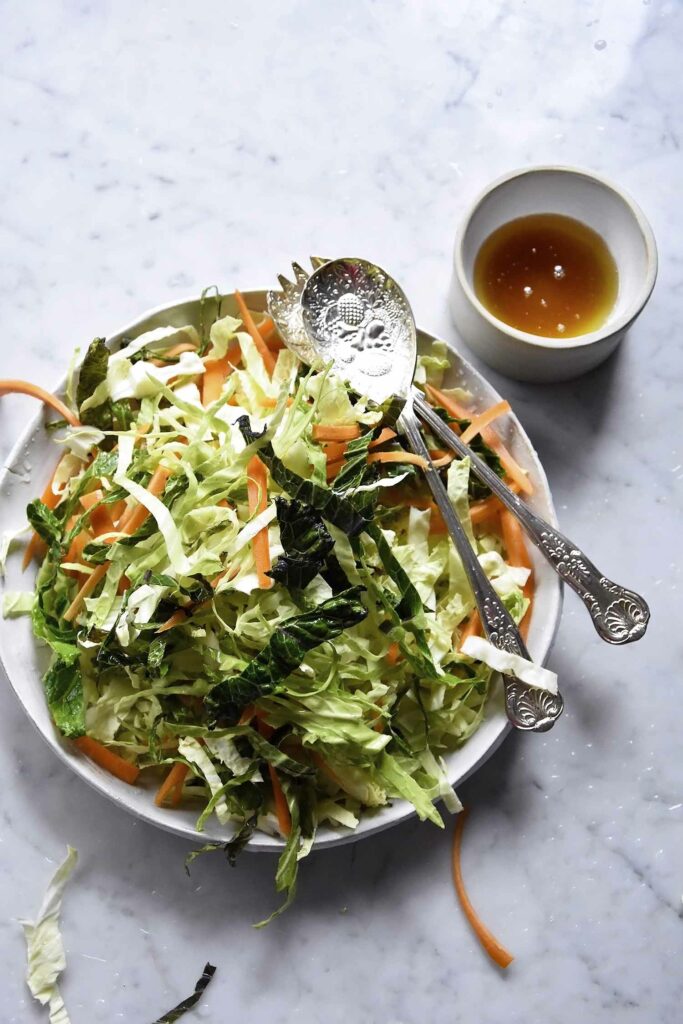 Print
My colourful winter coleslaw
Yield 6 portions
Ingredients
1 medium sized white cabbage 
3 to 4 medium sized carrots
50 ml sesame oil
2 tablespoon fruit vinegar, I used pomegranate vinegar
2 tablespoon agave syrup
1 lime, juiced
pinch of salt
Instructions
Cut the outer cabbage leaves of the crop and wash thoroughly. Slices the cabbage leaves and crop in thin lengthy strips, dip them in ice water to keep fresh and crispy.
Peel the carrots and dice into matchsticks. Add to the ice water.
In a jar add the sesame oil, agave, lime juice, vinegar and salt and give it a good shake.
Toss the drained cabbage and carrots on to a large plate and douse generously with the vinaigrette. 
Notes
on www.leeksandhighheels.com. by Sandra Slawinski
Written and photographed by Sandra Slawinski without commercial deals. I used the plate and bowl my mama made for me.