For this veggie dish, all you need is: sweet potatoes, a can of chickpeas, a little coconut milk, turmeric, sesame seeds and tahini.
As we are all "enjoying" confinement, I read that everyone is experiencing with cooking. If you need extra inspiration keep an eye on my IG stories, where I will share the PANTRY challenge of the week. Each week of confinement a friend will challenge me with 3 items from the pantry, freezer, fridge or just laying about.
Last week my friend Wendy in Washington DC challenged me with capers, quinoa and a can of tomatoes. I made cod and quinoa fritters with tomato salsa. You can get the recipe on my IG stories, saved under PANTRY COOKING.
Who will be next?
Now of this recipe today I did also cook with whatever I had in the house. Initially I had planned a totally different dish to share today but that required going to the store and market and well as you know we need to stay home.
STEP 1: add coconut milk, chickpeas and turmeric to a sauce pan and reheat. Add some tahini paste, season with salt and pepper.
STEP 2: when sweet potatoes are cooked through, remove from oven and add the chickpea topping. Sprinkle a few black and golden sesame seeds and serve.
TIPS:
The chickpea, coconut milk and turmeric topping can turn into a great tasty soup if you add more coconut milk.
Add some panfried salmon or chicken if you prefer.
Don't have coconut milk ( WHY??) replace it with regular cream or yoghurt.
Follow packet instructions on how to cook dried chickpeas , I used a can and so it required minimal amount of cooking. (always ve a couple of cans at the ready)
Check out my pantry make over and my tips for a well stocked pantry for a health lifestyle with 55 times to have at all times HERE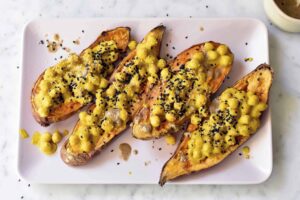 Print
My turmeric chickpea topped sweet potato
Yield 4 portions
Ingredients
2 sweet potatoes
1 can of chickpeas
100 ml coconut milk ( or 200 ml served as soup)
2 tea spoons ground turmeric powder
1 tea spoon tahini
black and golden sesame seeds
salt and pepper
olive oil
Instructions
Scrub the sweet potatoes clean, half and lay on baking tray. Splash with olive oil, season with salt and pepper and bake in a pre heated oven 180C for 45 minutes till baked through and bubbly.
In a sauce pan add the coconut milk, chickpeas, tahini and turmeric, stir to combine and heat.
Remove the baked sweet potato from the oven. Place them on a plate, and add the chickpea topping. Sprinkle with black and golden sesame seeds, a few more drips of tahini and serve.
Notes
on www.leeksandhighheels.com by Sandra Slawinski
Written and photographed by Sandra Slawinski without commercial deals. I used my pink plate from Ikea, sauce pan from Williams Sonoma, black spoon from ZaraHome and jar from Carrefour.