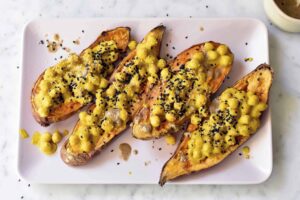 My turmeric chickpea topped sweet potato
Yield 4 portions
Ingredients
2 sweet potatoes
1 can of chickpeas
100 ml coconut milk ( or 200 ml served as soup)
2 tea spoons ground turmeric powder
1 tea spoon tahini
black and golden sesame seeds
salt and pepper
olive oil
Instructions
Scrub the sweet potatoes clean, half and lay on baking tray. Splash with olive oil, season with salt and pepper and bake in a pre heated oven 180C for 45 minutes till baked through and bubbly.
In a sauce pan add the coconut milk, chickpeas, tahini and turmeric, stir to combine and heat.
Remove the baked sweet potato from the oven. Place them on a plate, and add the chickpea topping. Sprinkle with black and golden sesame seeds, a few more drips of tahini and serve.
Notes
on www.leeksandhighheels.com by Sandra Slawinski
Recipe by Leeks and High Heels at https://leeksandhighheels.com/recipes/spring/my-turmeric-chickpea-topped-sweet-potato/