This flan like pie is called vlaai in Flemish and is made with leftover speculoos, gingerbread and milk. This sugar explosion is traditionally made all over East Flanders but I know it from my hometown Ghent of course: Gentse vlaai.
It's a simple bake with 5 shop-bought ingredients (or home made) and uses up stale cookies and cake to make a new dessert. Talk about zero-waste back in the days!
---
As part of a series of Belgian dishes posted every first Wednesday of the month, I vow to demystify these uber Belgian classics for you. Step-by-step I will show you what to do, this will have you successfully recreate those gorgeous rustic Belgian flavours you discovered in Belgium.
---
My father loved a piece of vlaai and I recall one of the wives of his cycling club used to make it for him from time to time. I must say I am also found of it but it is rare to find it in bakeries or served in restaurants so I make it myself. Truth to be said this is a farmers pudding so I don't expect restaurants to serve it. Almost all my Belgian friends have a very fond memory of eating this when they were kids. It is too bad when bakes like this disappear as they are considered old fashioned. I am all for the revival of the old!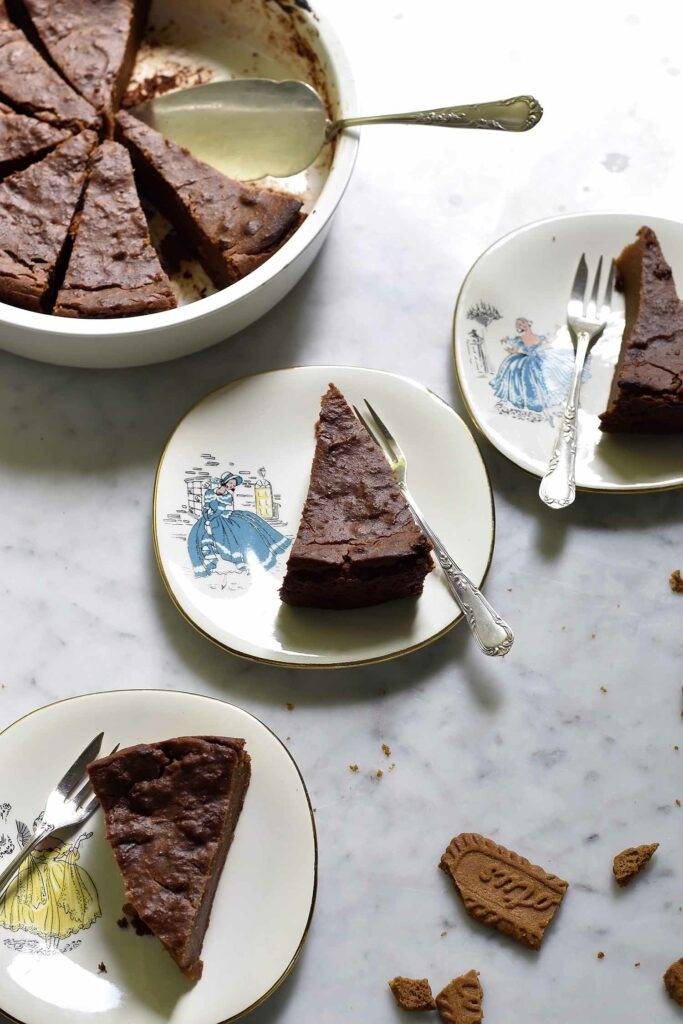 Print
Belgian Classics: flan pie from Ghent
Yield 1 pie
Ingredients
300 gr gingerbread
300 gr speculoos
750 ml whole milk
1 egg and 1 yolk 
1 tablespoon cornstarch
50 gr dark brown sugar
1 teaspoon cinnamon or ground ginger
1 teaspoon  ground nutmeg
1 table spoon butter
Instructions
Crack the egg in a small bowl, add the yolk,  whip it loose with a fork, add a splash of milk and the cornstarch. Mix well to combine.
Crumble the gingerbread and speculoos in a cast-iron pan, add the milk, the sugar and spices.
Add the egg mixture to the gingerbread mixture and mix to combine.
Over moderate heat cook while stirring cook for 15 minutes till bubbling. Remove from heat and blend with plunge blender till smooth. 
Pour into buttered dish and bake in the pre-heated oven at 180 C for 40 -45 minutes.
Remove, let cool down and serve. Keep in fridge to store.
Notes
on www.leeksandhighheels.com by Sandra Slawinski
Written and photographed by Sandra Slawinski without commercial deals. I used my vintage plates, fork, towel and bowl from Dille & Kamille.