Filo pastry makes a great light tart shell perfect for all year round topped with seasonal vegetables.
In spring I served a filo tart with white asparagus and flowers, in Autumn I just can not resist making filo tart with Swiss chard and girolles mushrooms.
I kept it totally vegan and the depth of flavour comes from the tahini seasoning.
TIPS and SWAPS:
Don't like Swiss chard, you can use cabbage leaves or winter spinach.
No girolles mushrooms at the market stand this week, you can use any mushroom in season.
Not a fan of tahini, brush the filo layers with olive oil and add some ricotta to the top layer.
You need more cheese, just add some shredded Comte or Guyere or some feta or mozzarella – all cheese go.
Make individual size tarts for easy serving or taking to work or on a picnic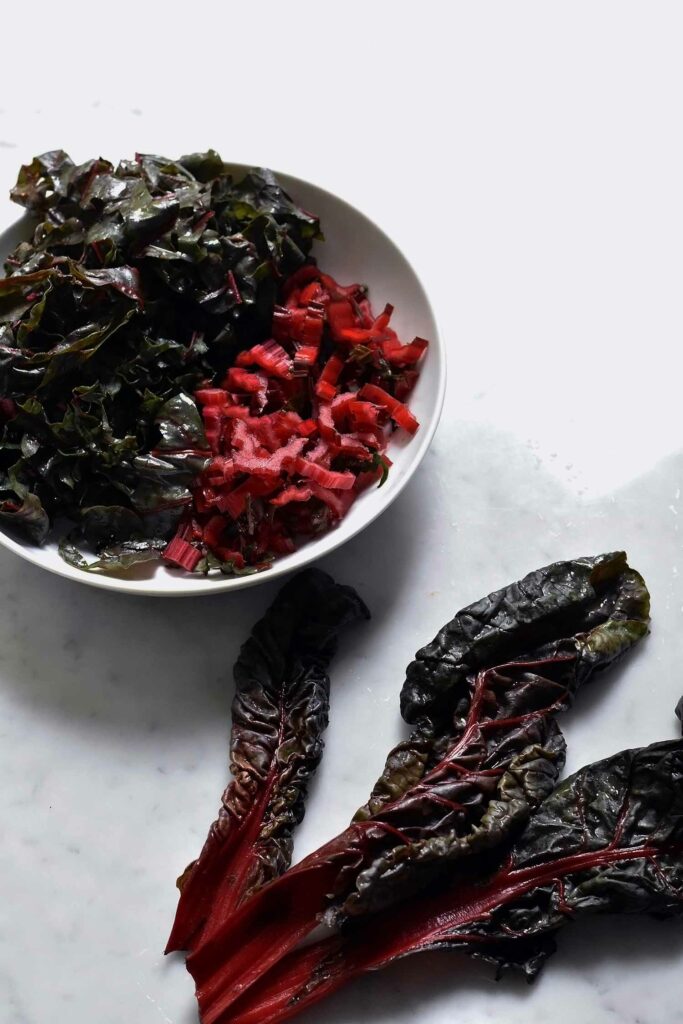 My ruby Swiss chard, girolles mushroom and tahini filo tart
Yield 4 portions
Ingredients
300 gr swiss chard, washed and chopped keeping stems separate from leaves
300 gr girolles mushrooms, brushed and rinsed
1 shallot, diced
5 sheets of filo pastry ( shop bought)
3 tablespoons tahini 
gold and black sesame seeds
1 tablespoon of olive oil
salt and pepper
Instructions
In a sauté pan, add some olive oil and sweat the shallot, add the Swiss chard stems and stir while frying over medium heat. 
When soft add the mushrooms, cook for 10 minutes, add the Swiss chard cut leaves and stir while cooking through about 10 to 15 minutes.
Taste and season the mixture. Remove from heat and reserve.
Take a baking tray or pizza tray and layer the 1st sheet of filo, brush with tahini. Layer 4 filo sheets on top and brush again the last sheet with tahini. ( you can brush each sheet if you LOVE tahini, I did).
Top the filo layers with the mushroom and Swiss chard mixture and bake in a prea heated oven at 180C for 10 to 15 minutes when the filo is crispy and baked.
Sprinkle with some gold and back sesame seeds and serve immediately.  
Notes
on www.leeksandhighheels.com by Sandra Slawinski 
Written and photographed by Sandra Slawinski without commercial deals. I used my plate from ZaraHome and brush from Dille en Kamille.