Pumpkin season is definitely here! and what better combo exists than pumpkin, mushrooms and sage? One of the joys eating only seasonal is when new Veg and fruits come in season, I get VERY excited. So I went a little nuts on the squashes I got, not only for eating but as decoration on my table too: everything orange and nutty.
PUMPKIN – this squash variety with origins in China but mass produced in the USA these days. I love reading social media debates of the pumpkin-spice-everything and the haters. We all know if used at Halloween to carve out scary faces. It is extremely versatile in cooking used both in savoury to sweet recipes.
MUSHROOMS – I used little shiitakes here but I can't wait to get my hands on cêpes ( porcini) and other forest-picked mushrooms. Always brush the mushrooms clean, be careful with water rinsing as they will swell up. Keep it simple in cooking, just some butter or olive oil, shallot and fresh thyme or sage.
SAGE – this evergreen woody shrub has been around since forever. The Greeks called it a holy herb and used it in religious ceremonies and used for warding off evil. Even today many still burn a little sage when settling in a new home. It's one of those classic cooking herbs together with thyme and rosemary. Sage is used quite a bit in Italian cooking.
STEP 1: Roast the pumpkin slices.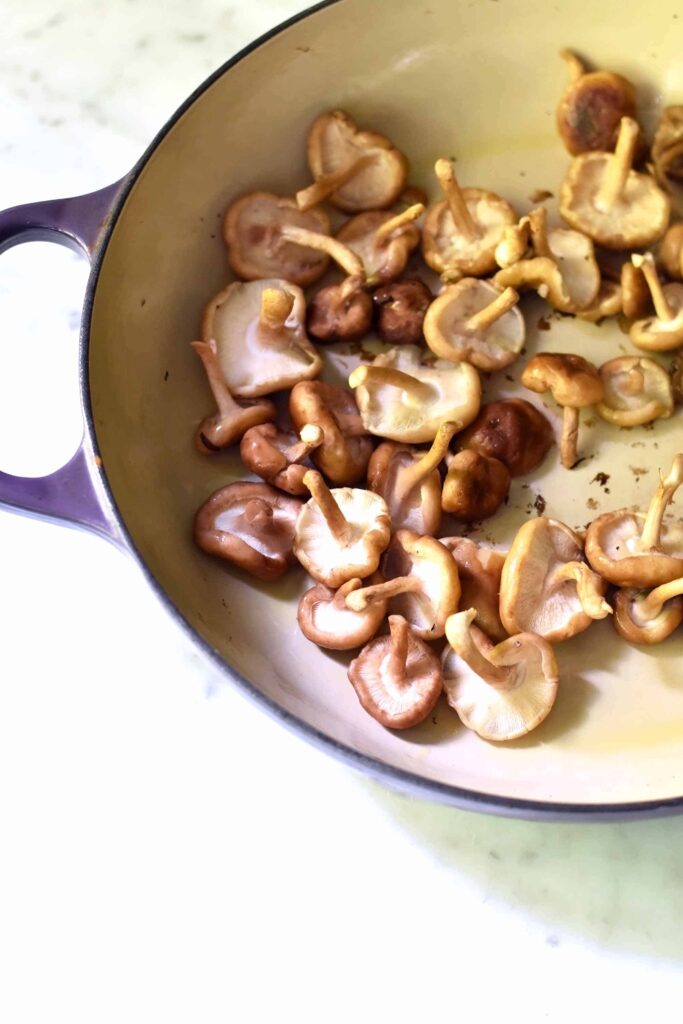 STEP 2: Cook the mushrooms in some butter or olive oil.
STEP 3: Sweat a diced shallot in olive oil, add the rice.
STEP 4: Add white wine and let the rice absorb the wine.
STEP 5: Add the chicken or vegetable stock and let simmer
STEP 6: when the rice is cooked and soft, drain any excess stock if needed but leave some moisture. Add the grated parmesan and season with salt and pepper to taste. Add the pumpkin and mushrooms and fried sage.
Print
My Autumn risotto with pumpkin and mushrooms
Ingredients
1 small pumpkin 
risotto rice
1l chicken or vegetable stock
200 gr grated parmesan cheese
1 table spoon unsalted butter
200 ml dry white wine
200 gr mushrooms
5 sprigs fresh sage
1 shallot, diced
olive oil
Instructions
Brush the pumpkin clean, slice in half, remove the seeds and slice the pumpkin in 0.5cm slices. Lay on baking sheet, drizzle with olive oil and season with salt. Roast in pre heated oven at 180C.
Brush the mushrooms, add butter to a frying pan, add the mushrooms, Season with salt and pepper and let sweat. Reduce the heat and simmer till the mushrooms are cooked. Remove and reserve.
In the same pan, add some olive oil, add the diced shallots and let sweat without colouring. Add the rice and let absorb the oil for a few seconds, add the white wine and let absorb.
Stir when almost all the wine is absorbed and add the chicken stock. Bring up to boil and than reduce down to simmer. Let simmer until the rice is cooked and soft. Drain any excess stock but leave the mixture moist.
Add the grated parmesan cheese and adjust the seasoning with salt and pepper.
Fry the sage leaves in some oil. Add the pumpkin, mushrooms and sage to the risotto and serve. 
Notes
on www.leeksandhighheels.com by Sandra Slawinski
Written and photographed by Sandra Slawinski without commercial deals. I used my Le Creuset braised pan.