Root vegetables are in season and carrots are big favourite. This heirloom bundle just brings soo much joy.
Carrots greens are totally edible, I think they taste a little grassy so I usually cut them up, store in freezer for soup or stock making. Here is used them in the pesto, totally delish.
I didn't have any parmesan in the fridge so I made the carrot greens pesto with toasted pine nuts and olive oil and served it with feta.
This makes a great side dish or veggie main dish.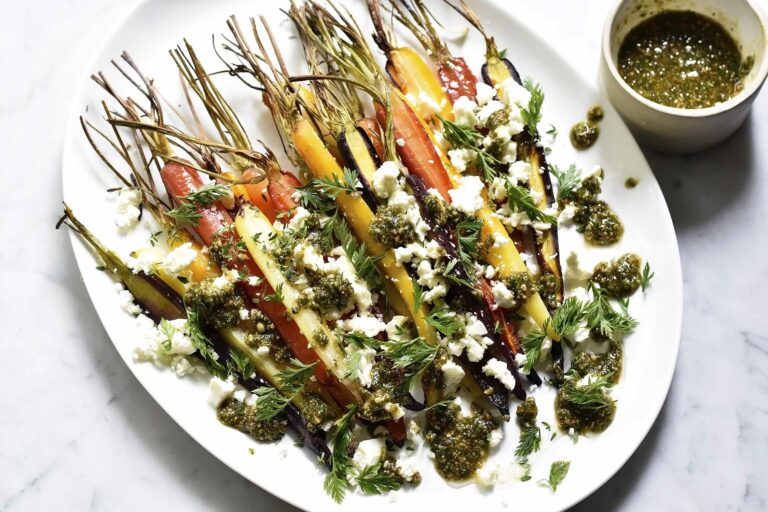 Print
My roasted carrots, honey feta & carrot greens presto
Yield 4 portions
Ingredients
1 bundle of carrots, washed, brushed or peeled
handful carrot green tops, washed and chopped
50 gr toasted pine nuts
200 gr feta
a few sprigs fresh thyme
4 bae leaves
2 tablespoon honey
olive oil
salt and pepper
Instructions
Slices the thicker carrots length wise, place on baking tray. Splash with olive oil and season with salt and pepper. Place the bae leaves in amongst the carrots.
Roast in pre heated oven at 180C for about 20 minutes. We are looking for a little crunch in the middle sill. Remove the bae leaves.
In blender add the carrot greens, pine nuts and. splash of olive oil. Taste and season with salt and pepper.
Plate the carrots on a large serving platter, crumble over the feta, add a few dollops of pesto and splash with the honey, sprinkle chopped carrot greens and fresh thyme leaves.
Notes
on www.leeksandhighheels.com by Sandra Slawinski
TIPS & SWAPS:
Make sure to rinse the carrot greens multiple times, lots of dirt in those greens.
Chop the carrot greens and freeze until making soup or stock.
Pine nuts are at its best toasted: add them to a hot non-stick pan, stay with them, toss regularly and remove when golden.
Swap pine nuts for almonds, pistachios, cashews or sunflower seeds.
Swap feta for fresh goat cheese, burrata or ricotta.
Written and photographed by Sandra Slawinski without commercial deals. I use my platter from ZaraHome, my little Le Creuset pan and my Magimix (its getting old). I used lovely olive oil from Crete, received from my fiend Nia.