Nothing is as refreshing as a frozen drink ( slushy) in summer. I LOVE frozen margaritas but in Brussels they only serves them on the rocks. So I decided to test how I can make them at home.
First I tried my Kitchen Aid ice cream maker but it did not work as I didn't add any sugar I think. I made the fabulous melon verbena sorbet (click here) the other day.
Next I tried to use my not-so-fabulous blender ( may need to invest there) and that did not work either .
Then I went old school and froze it overnight in the freezer and bingo!  I recommend you remove it from the freezer about 1 hour before serving ( in heat wave it went faster ) and it was perfectly slushy and refreshing.
Traditionally a Margarita cocktail is made with tequila, triple sec and lime juice, served with a salt rim on the glass. You can add any seasonal fruit juice to pimp it. As it is summer and watermelon is bang in season, i gave it a try.
STEP 1: Blend the watermelon.
STEP 2: Sieve the watermelon to remove seeds.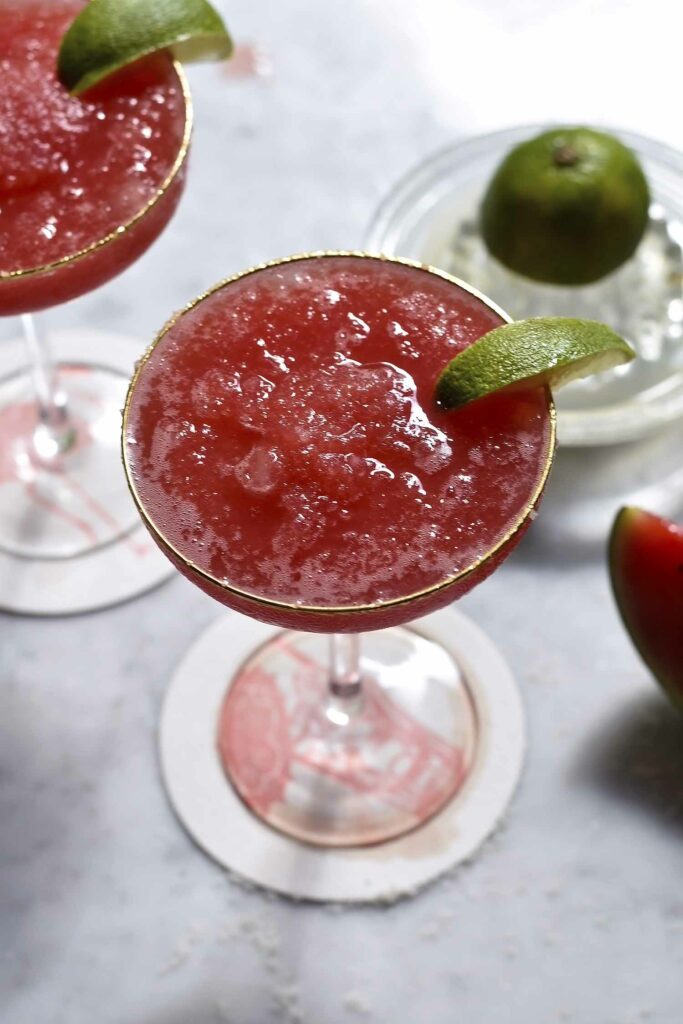 Print
My hibiscus and watermelon margarita
Yield 4 cocktails
Ingredients
200 ml tequila
100 ml triple sec
600 watermelon juice ( i used fresh watermelon i blitz)
100 ml lime juice
2 tablespoons dried hibiscus flowers or hibiscus tea
agave or simple syrup - optional
salt
Instructions
Add the dried hibiscus flowers or tea in a strainer to the tequila a few hours (or days) to steep and sieve. 
Cut up the melon and blitz it and sieve the juice to remove the pits.
Add the juice to a measuring jug, and add the flavoured tequila, triple sec and lime juice. This makes 1 litre of liquid. Taste it and added some agave to sweeten if preferred. 
Either use a strong blender with ice to obtain a frozen margarita, or freeze overnight in the freezer and remove about 1 hour before serving. Or serve over ice for the non-frozen version.
Prepare the glasses: place salt in a small dish, use a lime wedge around the rim of the glass and dip the rim in the salt.
Add the frozen (semi runny) margarita and serve.
Notes
on www.leeksandhighheels.com by Sandra Slawinski
Written and photographed by Sandra Slawinski without commericial deals. I used my glasses from H&M Home, my vintage lime press, Haute Papier coaster were a gift from my dear friend Asel & my magimix.