Waffles from Brussels! Belgium is blessed with amazing food heritage and although some of the specialties can see origins in the French cuisine, we did perfect them and give them our own stamp. There are 2 kind of waffles Belgium is known for both social to a city: Brussels and Liege. I will show you how EASY it is to make Brussels waffles.
---
As part of a series of Belgian dishes posted every first Wednesday of the month, I vow to demystify these uber Belgian classics for you. Step-by-step I will show you what to do, this will have you successfully recreate those gorgeous rustic Belgian flavours you discovered In Belgium.
---
WAFFLES – it comes as no surprise, like all good things, they come from Ancient Greece. They had flat cakes cooked in between 2 hot metal plates that later in 12th and 13th century in France and The Netherlands became the waffle. Initially they had biblical motifs on the irons, later the rectangle shape and grid motif came about as we know them today.
The traditional waffle is a lighter wafer type of waffle as the Liege waffle invented in 19th century is more dense and has large sugar lumps in them.
I remember eating the waffles when we went to the North Sea during summer school break, and I still eat them at the beach every time I go, not soo much in town.
We traditionally serve them with whipped cream and in season with strawberries. The variety of toppings you see in the streets of Brussels are for the tourists, my dears! So stick to whipped cream only!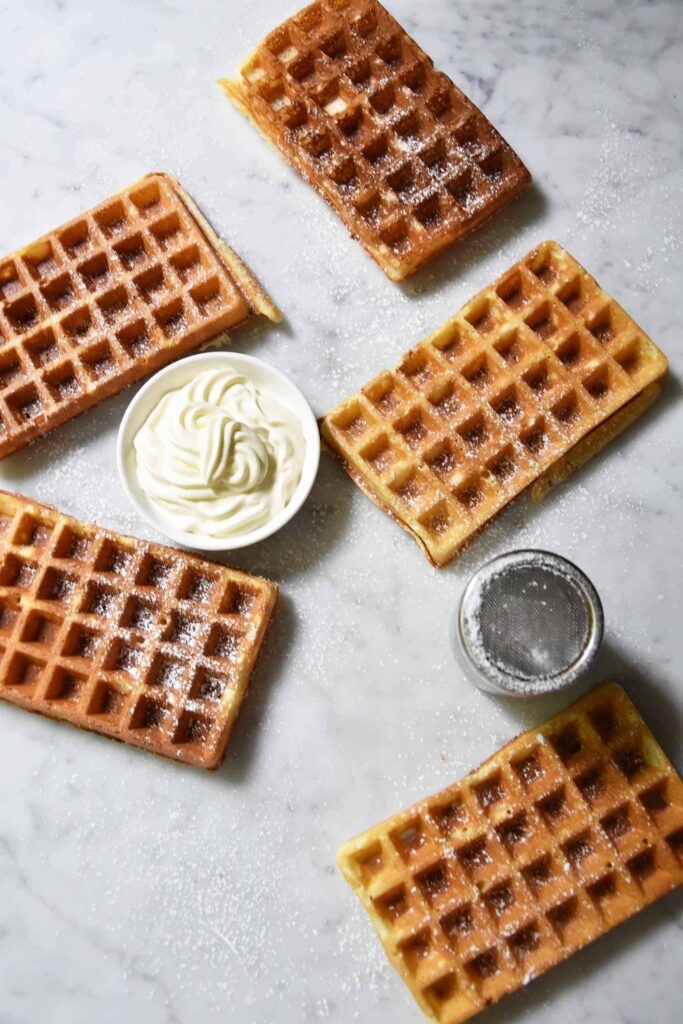 STEP 1: get your ingredients ready, see the recipe below for details
STEP 2: The secret is vanilla sugar, I bought these packs as I had run out of making my own. Vanilla beans are very expensive right now due to bad weather and a small harvest this year. These pre-packed bags are an acceptable alternative.
Mix the flour and sugar together. Add a little milk, mix and add the rest of the milk. Gradually add the egg yolks and the water. Mix to combine.
STEP 3: Add the melted butter to the mixture and beat the egg whites.
STEP 4: Fold the egg whites in the mixture with a spatula. Keep the air into the mixture by carefully blending.
STEP 5: Heat the waffle iron as per manufacturers instructions. Ladle the quite runny mixture into the iron and bake for a few minutes. Remove and let cool. ( yes it will get messy and the 1st one is for the cook)
STEP 6: Serve when lukewarm with whipped cream and a little powder sugar.
Print
My Brussels waffles
Yield 10 waffles
Ingredients
250 gr self-rising flour
500 ml milk
100 gr butter, melted
2 egg whites
2 egg yolks
20 gr vanilla sugar
Instructions
Mix the flour and sugar. Add a little bit of milk, stir it in . Add one by one the egg yolks and stir and than add the rest of the milk and egg yolk and stir well to combine.
Add the melted butter and stir to combine.
With a spatula fold in the beaten egg whites gently to keep as much air in the mixture as possible.
Heat the waffle iron and ladle the mixture on the iron and cook for a few minutes. Let cool sliglty, serve with whipped cream.
Notes
on www.leeksandhighheels.com by Sandra Slawinski
Written and photographed by Sandra Slawinski without commercial deals. I used my collection of my dessert plates bought as a set with my tea cups: Herend, Delft, Lomonosov Imperial porcelain and some vintage pieces.