Belgian chocolate is THE best in the world hence is our chocolate mousse. I am not quite sure what makes it soooo great but we are blessed indeed. From our simple supermarket chocolate to our passionate chocolatiers, there is something for everyone. I am not one of those people who needs chocolate everyday but I truly admire the passion. As with everything I tend to like a certain chocolate in a certain shop. I always travel with chocolate to share with friends, colleagues, bosses or the very helpful and kind hotel concierge. It's definitely a currency that opens doors and shows sincere gratitude. Here I share a classic chocolate mousse, sooo classic that I bet every Belgian has a food memory with this dish.
---
As part of a series of Belgian dishes posted every first Wednesday of the month, I vow to demystify these uber Belgian classics for you. Step-by-step I will show you what to do, this will have you successfully recreate those gorgeous rustic Belgian flavours.
---
CHOCOLATE – It starts with picking the best cocoa beans, roasting and grounding follows till it ends up in my tablet or praline. It is the MOST simple way to explain this complicated process requiring precision and passion by connoisseurs. In a nut shell the Mayans and Aztecs started it, Columbus tasted it and the Spanish brought it back to Europe. The crazy demand lead to slavery on cacoa plantations in the colonies, definitely a dark history there. Today West Africa produces the most cocoa but different varieties are being cultivated around the world now. Recently we Belgians added a new chocolate the Rubby, this is naturally pink chocolate not coloured.
PIERRE MARCOLINI – This Belgian innovative chef passionate about chocolate has Italian roots and with his 35 + shops from Brussels to Tokyo he serves up a rare and unexpected taste of emotions. He travels the world to find the finest beans and constantly surprises his fans with inventive delights. He brings out seasonal collections as well lovely eclairs, cakes and macarons. His chocolate I travel with everywhere, people love it! I used his chocolate to make my mousse which is rather extravagant but I just happened to be passing the shop at Sablon.
STEP 1: Melt the chocolate au bain-marie. Let it cool down.
BAIN MARIE – this cooking technique called water bath, is a recipient with boiling water with a smaller container partially immersed into the water in order to liquify without boiling or scorching it. This is THE best way to melt chocolate, you can use the microwave I ve read but I stick to the bain-marie.
STEP 2: Whisk till pale the egg yokes with the vanilla sugar. Whip the cream. Beat the egg whites with the power sugar till stiff peaks.
STEP 3: Add to the egg yolks the chocolate and mix well with a spatula. Add the whipped cream, mix well with a spatula, add the egg whites till fully incorporated, keep the air by folding the egg whites into the mixture carefully.
STEP 4: Pour the mousse into the recipients and refrigerate for 2 hours before serving.
Don't forget to lick the spoon!!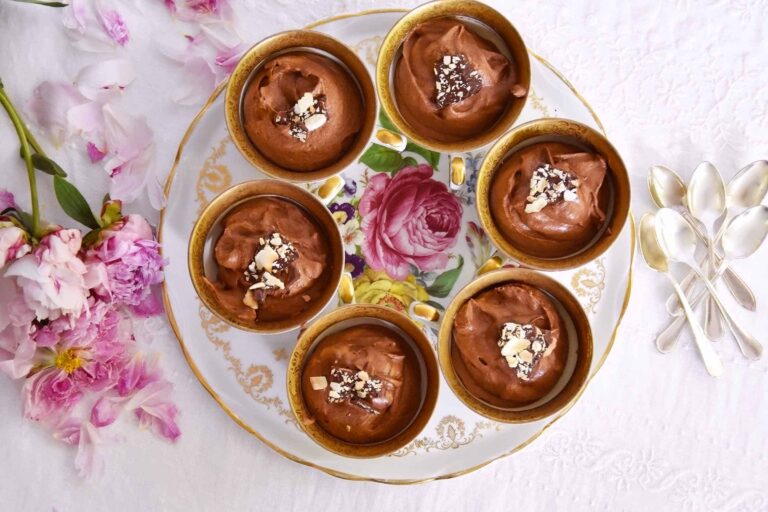 Print
My chocolate mousse
Yield 6 portions
Ingredients
130 gr (1 cup or 4.60 oz) dark chocolate 70% cacao 
4 eggs, separating yokes and whites
1 sachet vanilla sugar (8gr) - or 2 teaspoon sugar and 1 teaspoon vanilla extract
100 ml (1/2 cup or 3.4 oz) cream
30 gr (1/4 cup or 2 1/2 tablespoon ) powder sugar ( confection sugar)
pinch of salt
decoration: optional: chocolate shards, nibs or zest of orange 
Instructions
Melt the chocolate over a Bain Marie ( bring water to boil, then reduce to simmering). Switch off the heat and let the melted chocolate cool a bit but remain easy to stir
Beat the egg whites with the sugar till stiff peaks. Whisk the egg yokes with the vanilla sugar till pale. Whip the cream till combined and holding on the bowl. 
Add to the egg yoke mixture the chocolate, mix well with a spatula. Add the cream, mix well with a spatula. Add 1/3 of the egg whites and combine well, add the rest and keep the air in by folding it into the mixture versus beating it.
Transfer into the recipients and refrigerate minimal 1 to 2 hours before serving. Top with a chocolate shard or nibs for crunch or organ zest for freshness. Serve with a poached pear or quince in Autumn and berries in Summer.
Notes
on www.leeksandhighheels.com by Sandra Slawinski
Written and photographed by Sandra Slawinski without commercial deals. I used my vintage teacups and cake plate I found on flea markets, the silver spoons were from my parents restaurant. Table cloth from ZaraHome.