Sharing easy tips how to press and dry flowers and how to use them.
I used to do this as a kid, drying flowers in my dad heavy art and cook books and stick them to my school books. As I was looking what art I could put up in my freshly wallpapered hallway, my friend Pascale came up with the idea of using pressed flowers in a glass frame.
Using the flowers and leaves in season ties in so much with my whole being of following seasons, I am just soo delighted.
She dried some shiso leaves for me and I dried the first violets of the season. I can't wait to go through every new flower season!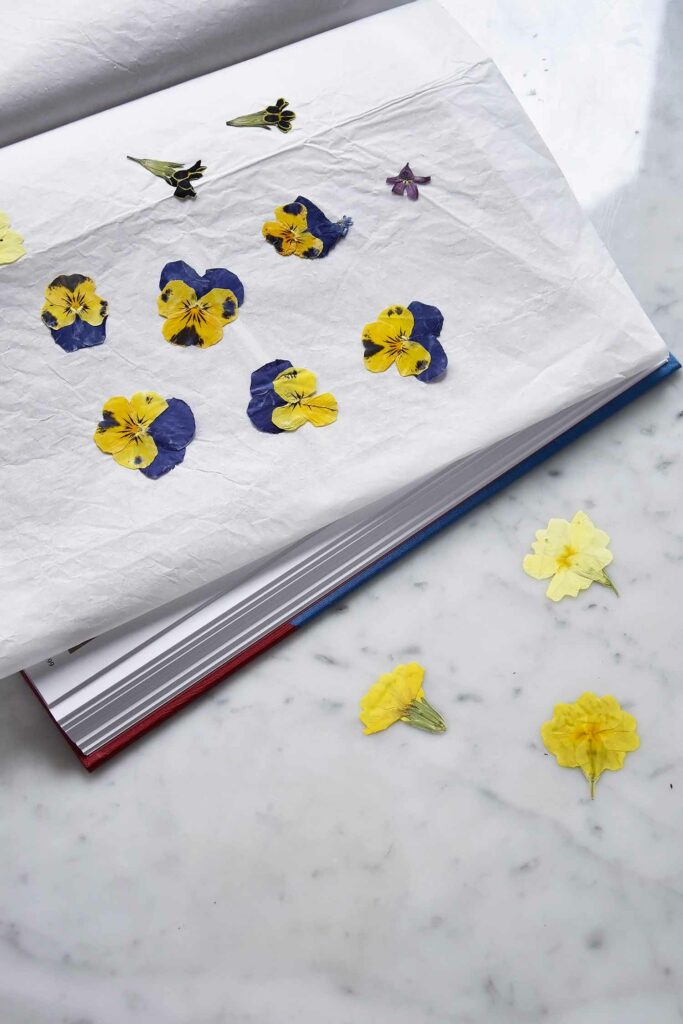 HOW TO PRESS FLOWERS & LEAVES:
1.Freshness is key. You want to use the flowers and leaves at its peak.
2.If you are picking from your garden or window box, pick early morning.
3.Use tissue paper or news paper, maybe not parchment paper which is slightly grease. You want paper that will absorb the moisture.
4.Place on the paper the flowers and leaves about 2 cm apart and flower head down.
5.Fold over the paper and place in the middle of a big book and close it. Add some extra books on top to weigh it down.
6.Have the paper stick out of the book as a book marker and write the date when you ve pressed them, making it easier to remember when they might be ready for a turn.
7.Check the status about 5 days after the initial press, if needed change the paper. They should be fully dried in about 10 to 14 days.
8.When completely dried, remove and use in your project.
HOW TO DECORATE WITH DRIED FLOWERS AND LEAVES:
You can hang them as art. You can buy these glass panel frames on pretty  much any online site in any size. You simple pop the frame open, place carefully the dried flowers and leaves and close.
You can embellish note books. glue them in your personal note books or decorate the cover before lamenting it.
Make wall paper and glue them directly on your walls. I recommend you use a spray varnish to protect them.
You can create beautiful personalised birthday and thank you cards to send to family and friends, who can frame them in turn. Or menu and name cards to place at each place setting at the table.
Decorate candles with beautiful scented dried flowers or leaves.
Created, written and photographed by Sandra Slawinski without commercial agreements. I used items from my own collection.