Boy oh boy is it cold out there these past few days, we got snow too! Nothing else but a casserole or pie will do when it's cold like this. This fish pie with dill and leeks is just what I crave!
FISH – I used cod, smoked trout and grey shrimp but any white fish and prawns will work. Just make sure to remove the skin and bones from the fish, nothing so frustrating than bones in your pie.
PUFF or MASH – traditionally fish pie is topped with mash potatoes versus pie crust or puff pastry.
PIE BIRD – to let steam out of the pie a steam hole is cut in the middle. To prevent it from closing up while baking, a pie bird is placed. How cute is my little Le Creuset piebird!
Also check out my pheasant and mushroom pie, easily adapted with any poultry in season now! click here 
Don't forget a good egg wash to colour the puff pastry. I cut out a few leave shapes of the off-cuts of the pastry to decorate the top. It is very let say amateur style 🙂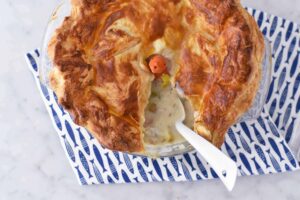 Print
My dill and leeks fish pie
Yield 4 portions
Ingredients
2 leeks, cleaned and cut
1/2 onion, diced
30 gr butter
1 teaspoon mustard
1/2 lemon, juiced
300 gr cod (or other white fish), but in 2 cm chunks
125 gr smoked trout or haddock
150 gr grey shrimp, peeled and cooked
50 gr flour
200 ml cream
300 ml fish stock
dill, chopped
salt and pepper
Instructions
Heat the butter in a nonstick deep ridge pan, add the onion and leeks and fry for 10 minutes until softened. Add mustard and flour and cook for 1 minutes, add the wine and stir with wooden spoon till smooth.
Slowly stir in the stock, cream and lemon juice, cook for 5 to 10 minutes until the sauce is thick enough to hold its shape. Taste and season with salt and pepper and additional lemon juice if needed.
Stir in the fish and shrimp and chopped dill, transfer to baking dish.
Wet with water the edge of the baking dish and fit the puff pastry on the baking dish. Add decorative puff pastry cut outs if you are feeling creative. Brush with mixture of beaten egg yolk with a splash of cream. Make a hole in the middle of the pastry and insert the piebird. Bake in pre-heated oven at 180 C for about 30 to 35 min. 
tip: if your oven is like mine, quite powerful; than you may wish to cover the puff pastry with a bit of foil for the last 15 minutes to avoid the pastry getting toooo dark.
Notes
on www.leeksandhighheels.com by Sandra Slawinski
Written and photographed by Sandra Slawinski without commercial deals. I used my napkin from Dille & Kamille, bowl is Pirex.