I am never been very keen on breakfast. First tea … than a shower…, slowly … getting ready to head out to work and than it is work, work, work. I may have a bowl of cereal at my desk but mostly tea till lunch. How awful is that! Well, it's been my routine all my life and I seem just fine ( or not haha). However on the weekend or on a day off, than I like to take my time to cook a good breakfast: eggs, bacon and vegetables. I ADORE a vegetable hash with eggs and with this smoked paprika I picked up at Penzeys in DC last month, it is spectacular!
MY NEW PAN – I want to upgrade some of my pans to copper pans fit for induction. When I was in Paris a few weeks back I picked up this beauty at E. Dehillerin ( of course). It was love at first sight! This store is all about french cooking utensils: pans, pots, everything and anything a pro and amateur chef need. I love going there but it's become bit of a tourist attraction versus people actually buying. It took me all of 5 minutes to pick the one I wanted and pay, I think I shocked the salesperson. Anyway my new non stick copper pan is going to be used for cooking meat and deglazing it to get a lovely sauce.  (more to follow on the blog about that)
HASH – or Hash(ed) browns or Rosti – is a basic recipe of shredded potatoes pan-fried till a crust forms. My version is diced fall vegetables: I used carrots, potatoes, parsnip and onion. It does take a bit of work to dice all the veg but I find it therapeutic all that dicing. You can easily adapt this to any season with any of your favourites: asperges in spring, courgette in summer, pumpkin in fall, and add cabbage in winter.
SMOKED PAPRIKA – These sweet pimiento peppers are smoke-dried over an oak fire and than ground into a fine powder. I like the non spicy hot flavour, more a sweet oaky flavour. It is used in a lot of Hungarian and Spanish cooking and I just LOVE it. Hungarian paprika has a range from sweet to fiery hot. This reminds me so much of my trip years and years ago to Budapest, what a magical place. I need to go back! Anyway, I dust my eggs with it and it lifts this simple breakfast on the yummy-barometer to the next level. I bought mine at Penzeys when I was in DC ( I just love that store), but every good spice store should ve a few to pick from.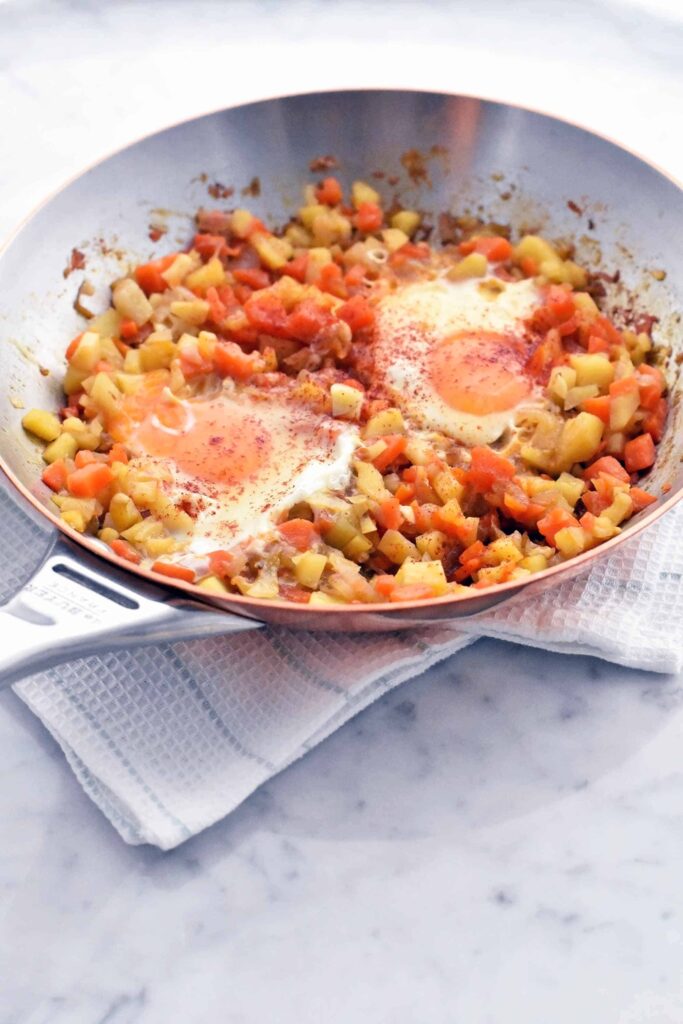 Print
My vegetable hash with smoked paprika eggs
Yield 2 portions
Ingredients
2 medium carrots, peeled
1 medium onion, peeled
3 medium potatoes, peeled
1 parsnip
2 eggs
smoked paprika
salt and pepper
10 gr butter
water
Instructions
Dice the vegetables equal size as possible ( we are not aiming for Michelin star perfection here, just about equal). Heat butter in the pan on medium heat and thrown in the veg.
Saute for a few minutes while stirring so they don't stick to the pan but soften. Add some water and with lid on let simmer for a few minutes until the vegetables are cooked through. I like mine to have still a bit of crunch.  Season with salt to taste.
Remove the lid and let the liquid evaporate. with a spoon make a little bit of a well and crack an egg into it. Repeat with the 2nd egg.  On low heat let the egg cook as you prefer it, I like mine still a bit runny.
Dust the eggs with the smoked paprika and  serve directly. Eat straight out of the pan with a piece of bread. 
Notes
on www.leeksandhighheels.com by Sandra Slawinski
Written and photographed by Sandra Slawinski without commercial deals. I used my copper pan from E Dillerin Paris. Dishcloth from Dille & Kamille.