SPRING is here, TG we survived another winter. Days are getting longer, more light and warmer temps are on the horizon! On the produce side we still have to wait another month or so to get new veg in but I tend to FAKE IT these days! I just am sooooo over the winter veg, stews and casseroles. My beetroot cured organic salmon with a fennel and horseradish salad is exactly what I need. It's in season but light, fresh and feels like spring.
It is nothing more than gathering ingredients and packing up the salmon for a few hours. However this is a bit messy. Make sure to wear an apron, and wipe your counter tops immediately when spilled.
The salt will cure the fish, it will go from raw to cured. The beetroot will give it flavour and colour. You need the sugar to balance the salt and the fennel shoots to balance the beetroot earthly flavours.
By using the baking beans in a ziplock bag you can keep the weights like cans in place. I used a bag of salt but anything goes.
The lovely fresh fish is now cured and has a texture like smoked salmon and an earthy beetroot flavour.
The fromage blanc and horseradish spread is just SO FRESH it goes amazingly with the fennel and the beetroot cured salmon.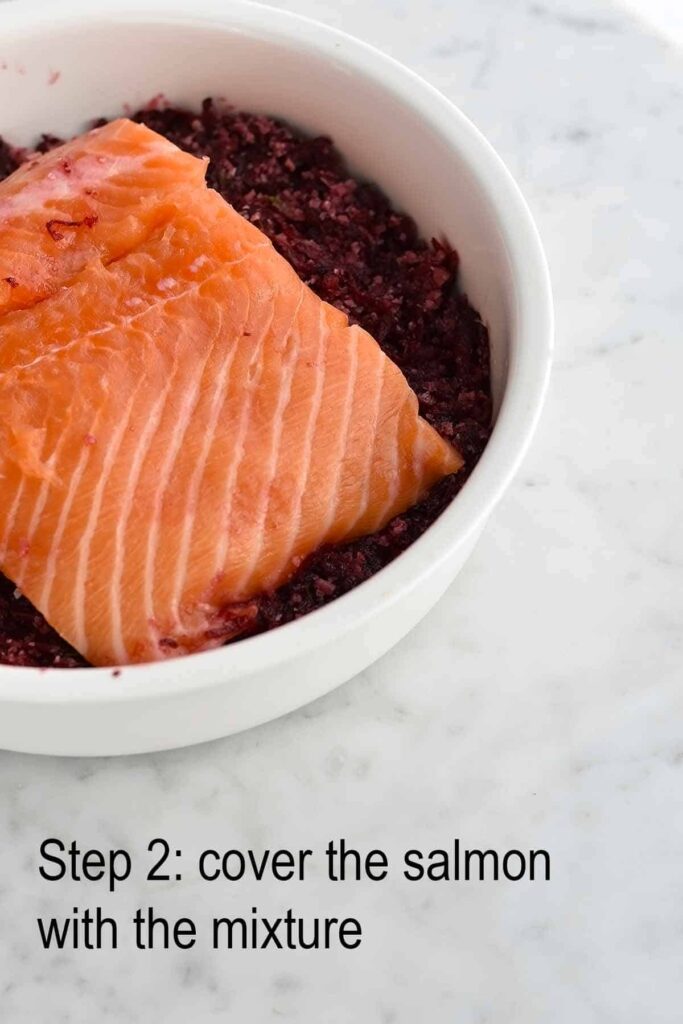 Print
My beetroot-cured organic salmon
Yield 6 portions
Ingredients
400 to 450 gr organic salmon, skin removed and pin-boned
1 kg coarse salt
200 gr caster sugar
3 large beetroots, coarsely grated, no need to remove the skin
1 fennel with shoots or replace by dill
1 lemon, juiced
2 tablespoons grated horseradish, from a jar
2 tablespoons fromage blanc or  cream cheese
slices of bread, optional 
salt and pepper
Instructions
Place the beetroot, fennel shoots or dill, salt and sugar in a large bowl and mix to combine.
Take a glass or ceramic baking dish slightly larger than your fish cut and layer 1/2 the mixture on the bottom. add the salmon, and cover with the rest of the mixture. As this will loose a lot of moisture make sure to keep space at the rim of the dish. 
Cover with cling film ( plastic wrap) and top with a baking tray or plate. Add some baking beans in a bag and top with cans or another pack of salt ( in my case). the baking beans will keep the cans in place. You need to get some weight onto it.
Combine the horseradish and fromage blanc, season with salt and pepper, reserve. Add lemon juice to the sliced fennel, reserve.
Refrigerate for 4 hours. Remove the plastic warp and the salt mixture. Thinly slice the salmon. Top bread with the spread salmon and fennel or serve like a salad.
Notes
on www.leeksandhighheels.com by Sandra Slawinski
Written and photographed by Sandra Slawinski without commercial deals.