The other day, lounging on my sofa, cup of tea in hand, I was wondering why I love sweets soooo much! Like seriously why? I have not quite figured it out but it made me think of my brother, nicked named the Cookie Monster. He used to plunder the biscuits and pralines from my dad kitchen in the middle of the night. Oh yes, they had to put locks on the fridges and cabinets, haha – and it was NOT me! Here are in honour of my artistic bro, my amaretti and chestnut biscuits.
AMERETTI – This Italian macaroon originates from Saronno from the romantic Renaissance period when a bishop came to town I believe.  Traditionally made with Amaretto liqueur, egg whites and ground almonds.
It is rather a staple of mine in Autumn to make these gooey, chewy biscuits. The least bit chilly temperature, a leave falling off a tree and I crave them. Must be a childhood memory somewhere in there. Anyway, Autumn is all about chestnuts. I can't be bothered baking them and peeling ( too painful when they are soo hot) so I just buy the unsweetened chestnut paste at the organic store.
This gluten free recipe I devolved needs icing sugar ( also called confectioner or power sugar) versus caster sugar. You can in some sweets exchange caster sugar for icing sugar and I found it gives a chewiness to my amaretti. When you want to swap, a little ratio tip: swap 200 gr of caster sugar for  110 gr of icing sugar.
In my Amaretti version I swapped the amaretto for the chestnut paste. I love making these and giving them as a hostess gift or bringing them in to work. They take no time at all to make nor bake and you can experiment with the flavours so easily. Oh and Cookie Monster helped me out in the kitchen today!
Have a go and let me know how you got on.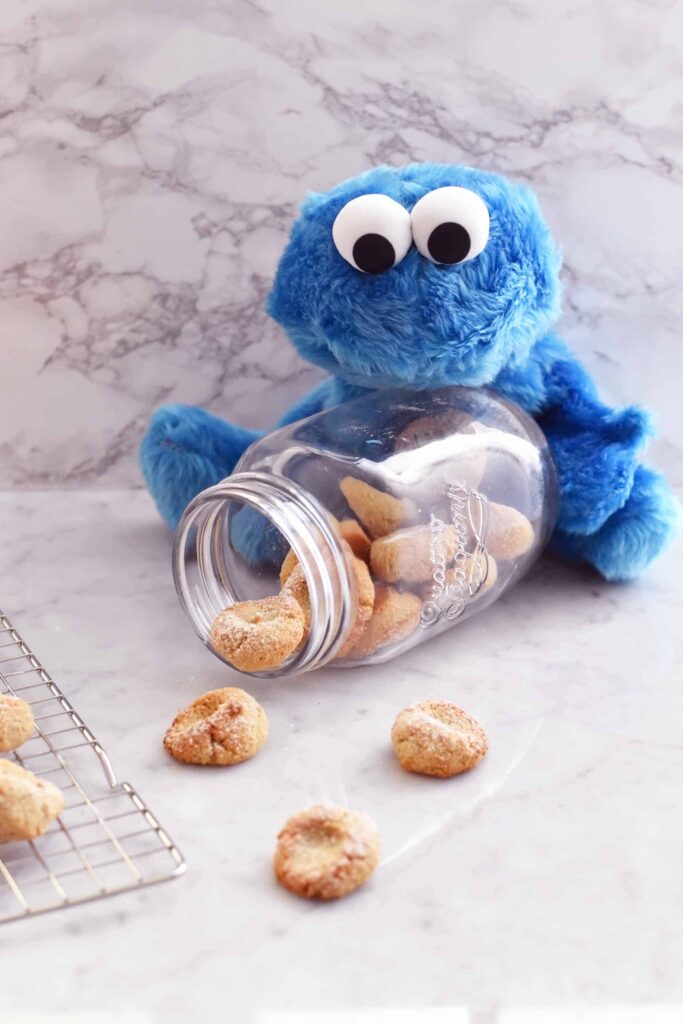 TIPS :
use ground almonds or almond meal, not almond flour, you need a fine grainy texture.
replace the chestnut paste by 30 ml of Amaretto for the traditional biscuit or add ground cardamom or ground ginger for a spicy biscuit.
when using zest of lemon, don't over do it as than you will have a lemon flavoured amaretti and the chestnut flavour gets lost, I use the a little zest to cut the sweetness a bit and bring freshness.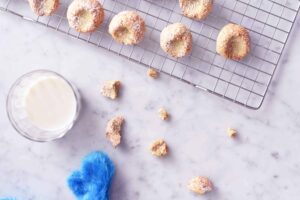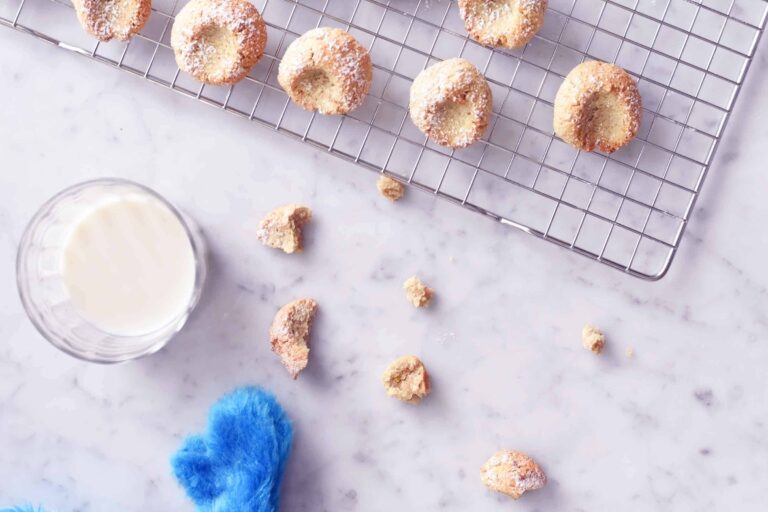 Print
My amaretti and chestnut biscuits
Yield 30 biscuits
Ingredients
280 gr ground almonds / almond meal ( shop bought or home made, not almond flour)
3 egg whites
110 gr icing sugar + some for dusting
3 tablespoons chestnut paste ( unsweetened )
1 lemon, zested
Instructions
Using a hand mixer whisk the egg whites until stiff peaks form.
Fold in the ground almonds and icing sugar. Add the chestnut paste and the lemon zest and mix well.
This mixture is quite sticky, you can use a spoon to scoop out a bit of the biscuit mixture or use your hands. Roll the mixture into a ball in your hands, about the size of a chestnut. Place on a baking tray with a silicone mat or baking parchment. Press you dumb into the ball to flatten. 
Repeat till all the dough is used up. Dust a little icing sugar over them. Bake for 15 to 20 minutes in a pre-heated oven at 170 degrees Celsius. 
Remove and let cool on a wire rack, store in a jar up to 4 days.
Notes
on WWW.LEEKSANDHIGHHEELS.COM by Sandra Slawinski
Written and photographed by Sandra Slawinski without commercial deals. I used my jar from Dille & Kamille.