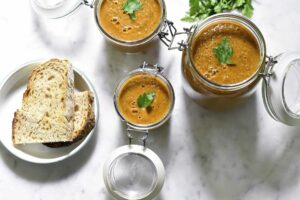 My summer veg and fruit gazpacho
Yield 4 portions
Ingredients
1 onion, diced
5 tomatoes or equivalent depending availability  
1 cucumber, diced
1/4 watermelon, diced
1/2 bustle flat parsley
2 tablespoons ground cumin
2 tablespoons olive oil
salt and pepper
Instructions
Slice the tomatoes in half and lay in a baking dish, add the diced onion and radishes. Roast for 15 minutes in preheated oven at 180C. Remove and let cool.
In blender, blitz the diced cucumber, watermelon and parsley. Add the cooled tomatoes, onion and radishes. Add the cumin, blitz to combine.
Taste and season with salt and pepper ( more cumin if preferred) and serve cold with toasted bread.
Notes
on www.leeksandhighheels.com by Sandra Slawinski
Recipe by Leeks and High Heels at https://leeksandhighheels.com/recipes/summer/my-summer-veg-and-fruit-gazpacho/