Returning from Barcelona I was dying to create a paella with squid, I gave it my twist of course.
Barcelona has been for ages on my BUCKET LIST and I am sooo  blessed my dearest fellow foodie friend Lucia was happy to show me around her hometown. I learned about Gaudi, the selfless architect with incredible vision. I amply sampled  Jamon Iberico, their divine ham and savoured their fresh caught seafood.
BARCELONA & GAUDI – This Roman founded city, capital of Catalonia, has been always a popular city trip destination. This urban, trendy yet historical  metropolis located at the Mediterranean sea is like heaven on earth when it comes to architectural beauties by Gaudi and divine pinchos, tapas and ham of course.
Gaudi, a visionary and extraordinary architect, whose buildings echo his passions for nature and religion. Must check out the Sagrada Famillia, his master piece not yet completed and absolutely stunning. Unlike any religious worshiping spot I have ever visited, the ceiling membrane connects the divine to the human but at the same time profoundly moves you and you can not but marvel. Take a stroll in the park Guell and be amazed by the wonderful ceramic sculptures and take a rest at the colourful benches.
EAT OUT – there are plenty of amazing spots to dine, let me share the few I tried and loved! (thank you Lucia for taking us there)
Rilke Restaurant – a speak easy style bar and restaurant, offering scrumptious gastronomy and fashionable cocktails. Ask the bartender to create your cocktail!
Hisop Restaurant – The minimalist decor surprisingly welcoming and absolutely sets the tone for a profound dinner experience. It wont be long now before this restaurant becomes a foodie destination. I was enchanted by the lovely menu we tasted; basque traditional dishes given a once over with a modernist comb and explosion of flavour. A must!
Marea Alta Restaurant – With a spectacular view over the harbour where Christopher Columbus still points in the direction of the New World, you can enjoy the catch of the day. My Squid risotto is inspired by the one I ate there. Don't be surprised when you pull up to the address, it a regular office building, but a charming hostess awaits you int eh lobby to whisk you up the elevator directly to the top
Berniestain Shop & Eat – This interior designer knows how to combine a vintage feel and luxurious style in his shop and cafe. Stop by for a yummy breakfast, a lovely salad for lunch or a cheerful cup of tea in the afternoon and pick up a scented candle on the way out. Total refuge form the busy city.
JAMON IBERICO – This typical cured ham made from black Iberian pigs and fed acorns producing the best quality Spanish ham. There is an art in cutting the ham just right, I highly recommend you take some time to taste the different qualities of ham. You will be astonished!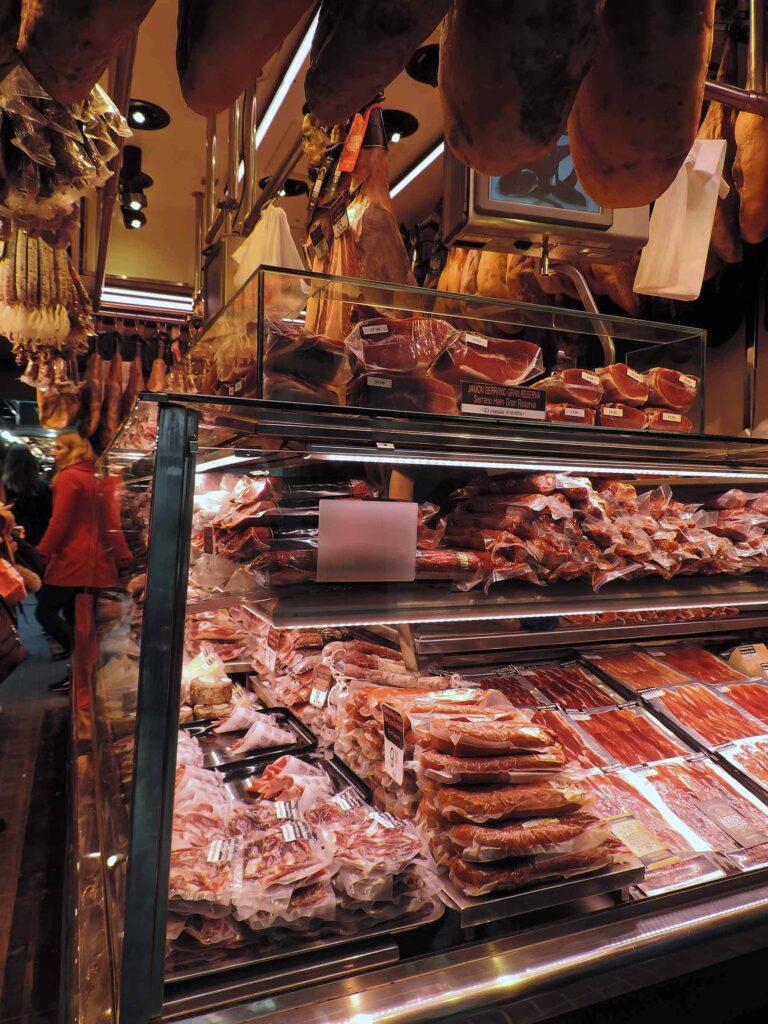 CHURROS – Fried dough, enough said! They have it for breakfast with sugar or hot chocolate – it's a calorie bomb but fried dough people, just enjoy!
Print
Squid with Rice, Spanish Style
Yield 4 portions
Ingredients
1 large squid (ask your fishmonger to clean it for you)
200 gr round rice ( used for risotto)
splash olive oil 
1 small shallot, diced
20 cl white wine or vermouth
400 ml vegetable or fish stock
1 pinch saffron
1 lemon, cut in 4
salt and pepper
Instructions
Slice the squid in 1 cm wide rings. Add olive oil to frying pan and flash fry the squid, season with salt and pepper. Do not cook the squid too long or it will become rubber and very unpleasant to eat.  Remove immediately from heat when just about cooked through, the residual heat will cook it for a bit longer. Reserve.
In olive oil sweat the diced shallot, add the rice, let it absorb the oil. Add the saffron and the white wine or vermouth. Let simmer till evaporated. Than add the stock ladle by ladle, making the risotto style rice. Each time the liquid is almost absorb, add another ladle. Continue until the rice is cooked thru but still has a bit of bite to it.
Remove from heat and season with salt and pepper. Serve with the squid and lemon.
Written and photographed by Sandra Slawinski without commercial deals.