Are you having friends and family over for dinner this weekend?
Do you want to impress them with a stunning table but not break the bank?
Check out my stunning yet budget friendly tips and impress with your table.
1. COLOUR PALATE – Like interior design there are some rules that work.    I swear by the 70/20/10 rule :
70 % of the table is in a neutral colour, the largest surfaces of my table are in white like the tablecloth and plates.
20 % of the table is in secondary colour, the centerpiece in my case is pink & purple tones and pink water glasses.
10% of the table is a pop ( of coulour or print), as shown on the pictures here are the napkins that jump out mixing all the colours in a fun print.
2. TABLE COVER – Before you put a tablecloth down, add an extra layer. Not only to protect the table but mostly to add a luxe feeling to the table setting. Trust me this is an instant raise the stakes trick. From the fabric store ask for a fabric called molton. It is a cotton fabric with a velvety feel, like flannel but ticker. It costs about 8 euro per meter and usually is about 1.20-50 m wide. You want to have 10 cm of fabric over each edge of the table. This means if your table is 1 meter by 180 cm, buy 2 meter length. You can also buy them ready made, some come with a plastic protection side. I got mine in different sizes ( as my table extends to seat 4, 6 or 8) from ZaraHome and they are great and affordable. (not paid to post).
I say YES, ALWAYS YES to using a tablecloth. For a very casual dinner with family you could get away with place mats but in all other cases, a tablecloth is a must. My suggestion is to invest in a great quality, machine washable and bleach-able white table cloth. No matter what your interior style is, no matter what you will serve, no matter the season of the year ; a white table cloth will always work.
3. FRESH FLOWERS – they can be expensive (especially in winter) but nothing beats fresh flowers as a centerpiece. A way to do it on a budget is using different sizes of jars and glasses so you only need to pop 3 flowers in the larger  jar and just 1 in the smaller ones. The impact is stunning. You need about 11 different sizes of jars. Than all you need is a pack of a mix of flowers (12 flowers) and some greenery. Get your greenery either from your garden, window box, ask a friend, neighbor ( ask before you cut plzz) or go to the shop or market.
Spread out the jars with flowers all down the middle of the table. A little goes a long way. And yes you should have an uneven number of jars. Not sure why but it just works best visually.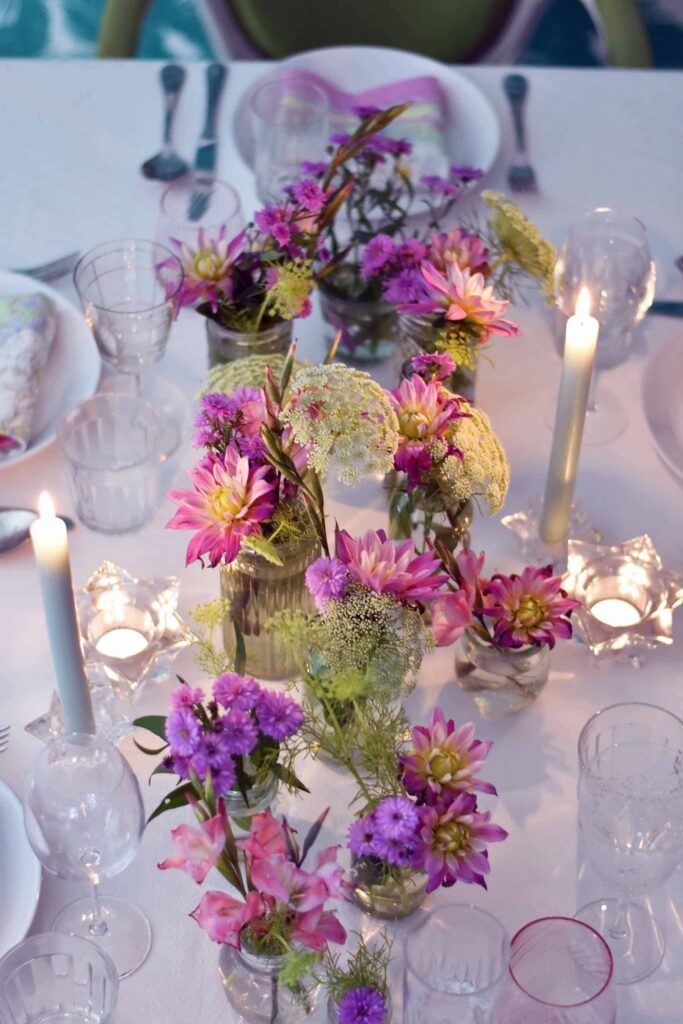 4. WHITE PLATES – There are lots of stunning affordable plates sets you can buy these days. But before you go all nuts over the latest fashionable colour, start to build your table with beautiful white plates of different sizes and bowls. They can be of different styles, shapes and tints but start with white. White plates will match your white table cloth and make the food and centerpiece stand out. Once you ve a good set of white, you can add a vintage set from your grandma maybe or a dark plate that showcases a colorful dish just brilliantly.  But remember the 70/20/10 rule to keep the colours in balance for the visual WHAW effect!
5. COLOURFUL NAPKINS – one of my many addictions is buying beautiful colourful napkins on sale both fabric and paper ones. Just LOVE them! Any table is instantly lifted when you use colourful napkins, either matched or opposed to the centrepiece colours. And you can mix and match if you don't have enough of the same, just mix it up but stick to a colour scheme that works. I recommend paper napkins are only used during cocktail hour or for buffets.
6. MIX AND MATCH – Using different styles of glasses and cutlery will give your table a nonchalant, effortless look. It's almost like you just put down what you ve without thinking,  but you know you gave it a lot of thought. And actually if you are like me and break a glass or plate here and there, your sets are not full anymore so just mix and match.
7. CANDLE LIGHT – No dinner table is complete without candle light. Ye seven if you have a lunch, add the candles. It gives your table is an instant glow. Use different votives but again keep within the 70/20/10 rule.
Now your turn, apply my tips and set that stunning table on a budget.
Written and photographed by Sandra Slawinski without commercial deals. I used from ZaraHome: tablecloth, napkins, glasses and cutlery. pink water glasses from Marks and Spencer. Crystal votives Villeroy and Boch.