Winter is being kind to us in Brussels, we got lots and lots of sunshine and warm temperatures this past couple of days. This soup is maybe more suited for nasty rainy days but you can never go wrong with onion!
Recently I saw that movie Julie&Julia (2009) again. Do you know it? As food blogger this probably the pioneer of all food bloggers. This is not the reason I became a food blogger but I am sure many did.
Anyway if you don't know it, it is about Julia Child and Julie Powell. Julia Child revolutionised French cooking in USA with her cookbooks still incredibly popular and relevant today: " Mastering the art of French Cooking". She was one of the 1st women on US TV to teach cooking. What an amazing legend!
So in the movie Julie Powell endeavours to cook Julia's 524 recipes in 365 days. She shared her findings on her food blog and becomes a successful author.
My dear friend Wendy introduced this culinary genius books to me a decade ago and I have consulted Julia's recipes ever since when in need. As did I for this French onion soup. If you need ANYTHING fact-checked about French cooking, I highly recommend her books.
She trained at the Cordon Blue Culinary Institute in 1950 and started writing her book. IN 1963 she started her TV career with a a show called the French Chef.
When I was in DC last year, we made a pilgrimage to the Smithsonian museum and visited her kitchen. It is mind-blowing to see her kitchen completely intact and actually how tiny it was. I wish they would give it more of a centre stage and update the exhibit a bit as she truly deserves it!
Of course  I used French onions to make French onion soup! Onions are in season from May to October but preserve of course so you can eat them all year around.
I think my earliest memory of this dish, is 1995/96 when I was working at the restaurant in the Hilton hotel Brussels and we served it at 2 am on New Year Eve to the hungry mob ringing in the new year. It smelled up the entire hotel lobby !
Traditionally gruyere cheese is used on the croutons but I used 30 months aged Comte, my favourite! The fact it's aged gives it more depth in flavour.
Have tissues on hand as once you start peeling and cutting, tears will flow. And don't do like me, not check the mirror before leaving the house and have your make up run down your face. haha…
I used my cassis Le Creuset braiser pan ( love it, great gift from my friends) and sliced the onions in half versus thinly slicing them. I like rather large pieces of the vegetable in my soup.
Brown them on both sides in the melted butter and oil. After bake them in a pre heard oven for 10 minutes to cook them evenly through. Julia's recipe simmers them covered for 10 minutes. I found the oven gives me a more even cooking.
As almost all good French authentic recipes, it requires butter and flour. A little dust goes a long way to aid the perfect consistency.
Of course white wine is a must, this brings a welcomed acidity to the sweet onions.
I always have prime beef stock in the pantry, it's one of my staple must-haves. Don't try this with chicken stock as it needs more flavour. I requires quite a lot and don't forget the cognac at the end. It is a MUST!
The easiest of croutons, wake them on a sheet in the oven. Julia uses a sauce pan on the stove first, I think the oven works just fine.
When serving make sure to dip the croutons in the soup and let them absorb the moisture for a few minutes. You can alternatively skip the bread and just add the cheese to the soup, melt under the grill for a few minutes and serve. I served them in small cassis Le Creuset ramekins as they matched my pan.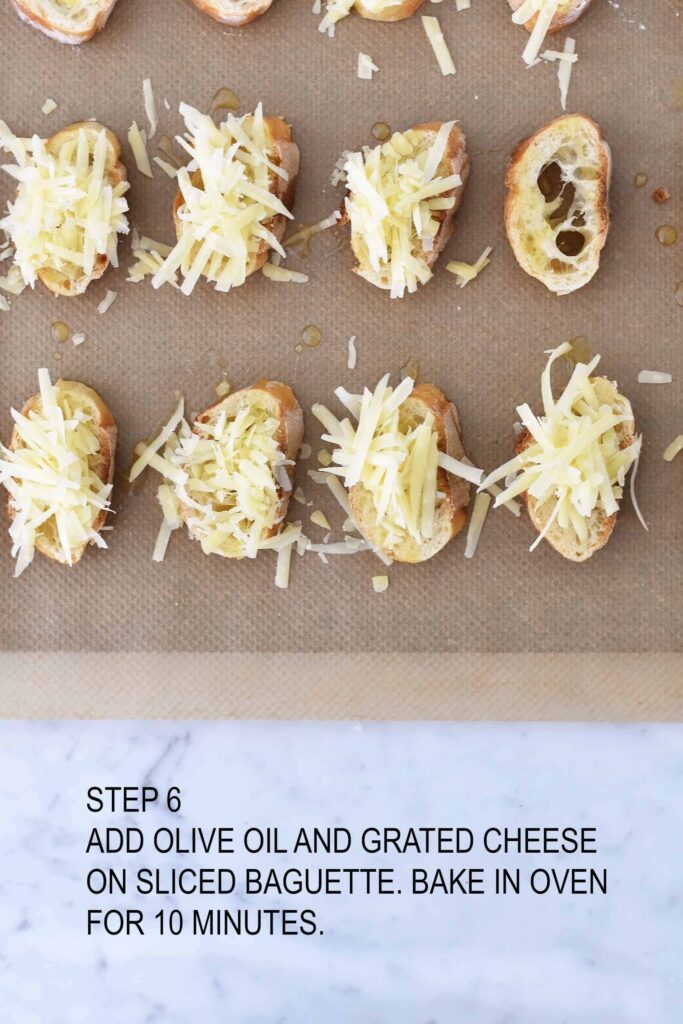 Print
My French onion soup
Yield 2 servings
Ingredients
700 gr onions, peeled, sliced in 2, head and bottom cut off
50 gr butter
2 tablespoons oil ( vegetable or olive oil)
1 tablespoon flour
150 ml dry white wine
800 ml beef stock
200 ml water
180 gr Comte cheese, grated
1 baguette, sliced
2 tablespoons cognac
salt and pepper
Instructions
In a saucepan or braiser melt the butter with the oil. Add the onions and brown on both sides.
Cook the onions in a pre heated oven at 180C for 10 minutes and retire to the stove.
Dust the onions with the flour and stir. Add the wine and stir, mashing up the soft onions.
Add the beef stock and water and simmer on low heat for 30 minutes, occasionally stirring.
Place the slices of baguette on baking sheet, drizzle with olive oil and add grated cheese. Grill in pre heated oven at 180C for 10 minutes. Remove and reserve.
Add the cognac and blend with handheld mixture a little if you prefer. Make sure to leave some chunks of onion. Season with salt and pepper to taste and serve with a crouton dipped in the soup and the rest on a side plate. ( you can never have enough croutons!)
Notes
on www.leeksandhighheels.com by Sandra Slawinski
Written and photographed by Sandra Slawinski without commercial deals.  I used my Le Creuset pan and ramekins,  I am a proud Le Creuset Ambassador.