Mackerel is a lovely fish and one of my favourite to cook whole in the oven. Simple is best I think but I love chervil with fish for some reason, I just love the combo more than dill. Chervil is bang in season now.
A few weeks ago I was invited to join a group of talented bloggers, curious influencers, Flemish TV cook Sandra Bekari and renowned chefs in Ostend, Belgium and learn all about Belgian North Sea coast catch of the day and how to fillet fish.
I love fish but truth to be said I don't really know much about what we can catch here at our Belgian coast as provenance is rarely ( almost never) noted on the labels at the fishmongers ( WHY?). Coincidental and at complete separate moment during the Environmental Festival in Brussels I discovered the German equivalent of Brussels Environment Organisation. They were handing out  "fish-o-meters" so we, the consumers, can check the minimum size of each variety of fish that should not be sold if inferior. For more info  click HERE.
Back to the Ostend fisherman who proudly showed us his catch of the day and where 5  Oostendse chefs educated us about: the North sea fish and crustaceans, the effects of climate change, the fishermen's struggle and chefs who want to use only local produce. Having this new information I investigated in Brussels and I discovered  that while Ostend is only about an hour and half drive from Brussels, finding fish actually caught in Ostend for sale in Brussels is hard, nearly impossible. Yet fish caught in the Atlantic ocean near Spain is for sale in abundance. Hmm, food for thought.
The 5 chefs showed us how to filet a "round" fish and a "flat" fish. I know how, I just rarely do it so it's one of those things : practices makes perfect. I usually just ask my fishmonger to fillet or just empty and remove the scales. The explained the importance and how easy it is to use all of the fish, don't discard the leftover bones and head, you can make fish sauce from it. Don't discard the ink from the squid, die the bread with it. It is easier said and done for a professional chef in a professional kitchen but in my efforts to reduce waste, I need to consider that too.
Next we all jammed into the kitchen and cooked a few of the signature dishes of the the chefs. It was hard work and kind of nostalgic me of being back in a professional kitchen. I was teamed up with Peter and worked on the razor clam appetizer served in the shell with cauliflower rice, pickled onions and seaweed mayo. It was a good reminder to appreciate the hard work and  how much time and effort chefs put into such a small yet delicious bite!
Chance had it I was seated at the table with the Mayor of Ostend, the chefs, the backer , the chocolatier and TV cook Sandra Bekari. I had a great night listening to their woos, challenges and adventures.
OOSTENDE – (Ostend in English) Because of its strategic location at the North Sea over the centuries armies ransacked and fought there. This happening coastal town in West Flandres has a long regal history from the days of Napoleons fort to Belgian royals vacationing in the summer to a fabulous Food Fest kicking off summer break on 22 & 23 June 2019, á l'Ostendaise. This foodie heaven festival is of course championing the North-sea fish and crustaceans.  – for all the details click HERE.  and HERE
Also check out the Ostend FB and IG for more events updates:  https://www.facebook.com/foodoostende/ https://www.instagram.com/foodoostende/
Restaurants to discover are:
Resto Marina – link HERE
Storm – link

HERE

Le Bassin – link

HERE

Bakkerij DeCock – link

HERE

Chocolatier Olivier Willems – link

HERE
Here I share with you mackerel 2 ways: oven roasted with homemade gnocchi and chervil pesto and version of one of the appetisers from Restaurant Storm: tartar of mackerel on an anchovy puff pastry with a chervil dressing.
For the homemade gnocchi if you have a great local Italian deli in your hood I would buy them. Making them takes patience and practice. I am not afraid to admit I threw out the 1st batch and started over.  This was my 3rd attempt in as many years and I find it very labour intensive. I do share the recipe and I encourage you to try making them but most importantly do not over flour them. Don't be temped to add more and more flour as it will become a gelatinous mess when boiling, trust me it happened to me. The fish I left whole, stuffed with lemon and chervil, baked in the oven at 180C for 15 minutes.
STEP 1: Add the egg into the mashed potatoes.
STEP 2: Add the flour and combine well.
STEP 3 : Roll the dough and cut chunks. Use the back of a fork to shape.
STEP 4: make the chervil pesto.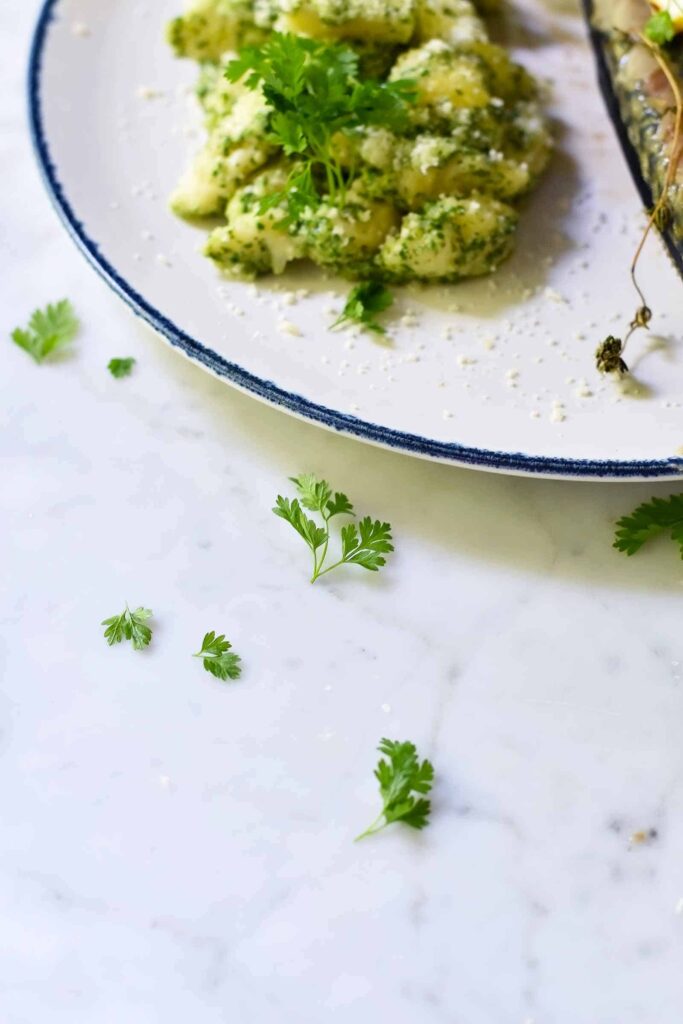 For the tartar, layer anchovies in between 2 puff pastry layers and oven bake ( in the workshop we made them into waffles), add some chervil to olive oil and vinegar and serve.
Print
My homemade gnocchi and chervil pesto
Yield 4 portions
Ingredients
400 gr potatoes, peeled and cooked
65 gr flour + some for dusting
1 egg
salt 
bustle of chervil
50 gr parmesan, grated
20 gr pine nuts
20 ml olive oil
pepper
Instructions
Rice or mash the boiled potatoes and let cool down. 
Form a little potato mountain and dig a crater. Crack the egg and whisk with a fork. Add to the crater.
Add the salt tot he flour and add to the potato and egg mixture and kneed till fully incorporated. (yes this will get very sticky)
Form a ball and cut in 4. Take 1/4 and roll in sausage, cut 1.5cm chunks . Roll on the back of a fork to create a more lips shape and leave that stripy mark.
In boiling water cook the gnocchi for a few min utes and let drain.
For the pesto add in food processor chervil, grated parmesan cheese and pine nuts. Season with pepper and add olive oil and blitz. You can add garlic if you like, I just never cook with garlic.
Add the pesto to the boiled gnocchi and serve.
Notes
on www.leeksandhighheels.com by Sandra Slawinski
---
Paid to post about Ostend and the upcoming Food Festival. my own photos and logo from Ostend.