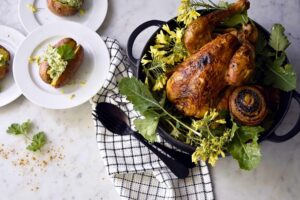 My raz-el-hanout roasted chicken with oven potatoes and kohlrabi cream
Yield 6 portions
Ingredients
3 tablespoon raz-el-hanout spice blend
1 organic chicken
2 tablespoon butter, olive oil or fat substitute of your choice
6 potatoes, washed
3 kohlrabi, peeled and steamed
150 ml cream
bustle of fresh parsley
1 teaspoon ground nutmeg
salt and pepper
Instructions
Rub the chicken with the spice blend. Add the butter to a cooking pan, add the chicken and brown on all sides for a minutes on high heat. Add to pre-heated oven at 180C and bake for 45 to 60 min depending on size of chicken.
Rub the washed potatoes with skin with olive oil and place in baking tray. Add to oven and bake same amount of time as the chicken. Flip them over after 30 minutes.
Blitz the steamed kohlrabi, parsley and cream into a food processor and season with nutmeg, salt and upper to taste. Reserve.
To serve: Slice open the oven backed potatoes and top with a spoon of kohlrabi cream, add some kohlrabi flowers (edible) for colour. Place the chicken on the kohlrabi leaves and flowers. 
Notes
on www.leeksandhighheels.com by Sandra Slawinski
Recipe by Leeks and High Heels at https://leeksandhighheels.com/recipes/spring/my-raz-el-hanout-roasted-chicken-with-oven-potatoes-and-kohlrabi-cream/