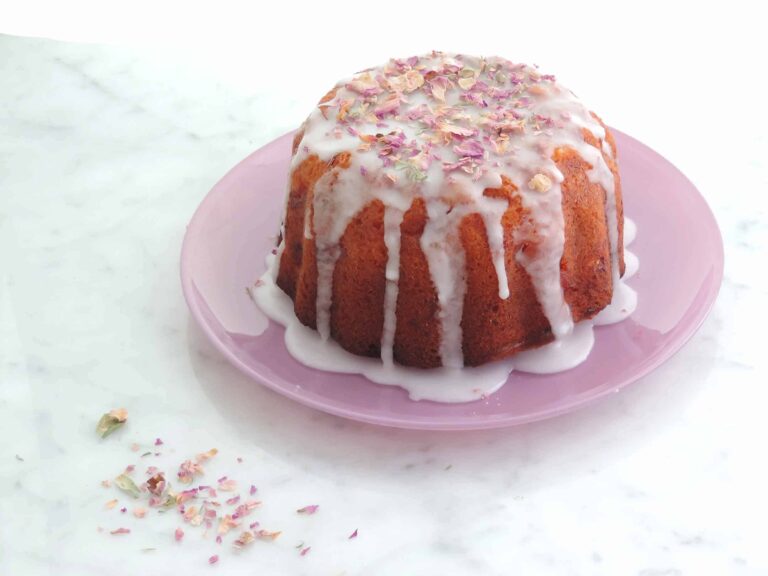 My boozy apple cake with rose petals frosting
Ingredients
130 gr all-purpose flour
1 teaspoon baking powder
pinch of salt
110 gr unsalted butter at room temperature
130 gr sugar
2 large eggs
3 tablespoons dark rum
2 apples, peeled, cored and cut into 2 cm cubes
50 gr powder sugar
hand full of dried rose petals
Instructions
In a small bowl whisk together the flour, baking powder and salt.
In a different bowl using a mixer (either handheld or stand mixer) cream the butter with sugar till lighted in colour. add the eggs one at the time while beating them combining well. Add the rum. Add the flour mixture and mix to combine.
Fold in the apples with a spatula and pour the batter into a greased baking pan.
Bake in pre-heated oven for about 45 minutes, check by pricking a steel skewer in the middle. If no batter stick to the metal than it is ready to come out of the oven.
In a small bowl add the powered sugar and add 1 teaspoon of water. Combine to a paste and adjust the consistency by adding little drops of water. You a looking for a paste that is slowly going to run down the cake.
When the cake has cooled, pour the frosting onto the cake, sprinkle the rose petals and serve.
Notes
by Sandra Slawinski on LeeksandHighHeels.com
Recipe by Leeks and High Heels at https://leeksandhighheels.com/recipes/autumn/my-boozy-apple-cake-with-rose-petal-frosting/