One of those staples in the heartwarming British casseroles are cottage and shepard's pie. Shepard's pie is made with minced lamb and cottage pie is with beef. It's great to prepare in advance or freeze for a quick and no-fuss dinner.
I replaced the traditional mash potatoes with sweet potato and carrot mash made with skimmed milk, making it very light and smooth.
Using fresh herbs like thyme, rosemary and bai leave give the minced beef lots of flavour.
This is easy to make recipe is also very budget friendly and a classic but with a twist. Check out Colruyt.be for more yummy and budget friendly pies such as this gorgeous rabbit stew and a vegetarian lentil stew with Brussels sprouts.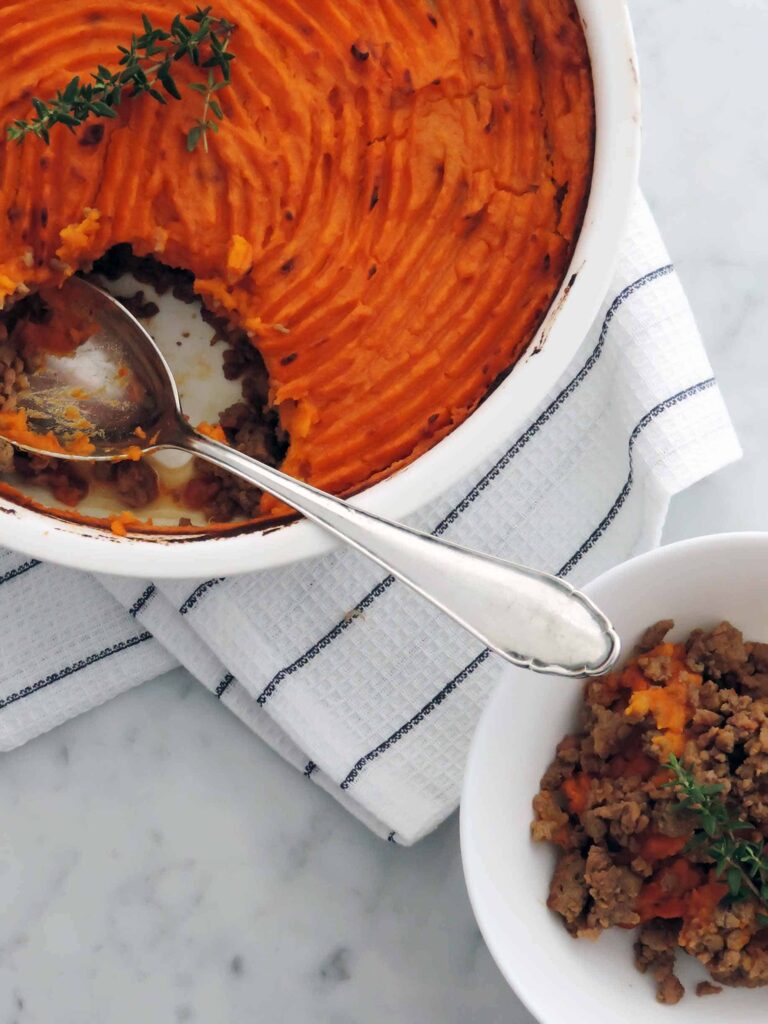 Print
my no-fuss cottage pie with sweet potato and carrot mash
Yield 4 portions
Ingredients
500 gr minced beef
3 medium size carrots, chopped
3 medium size sweet potato, cut in half lenghtwise
1 small onion, chopped in small dice
1 celerey stork, chopped in small dice
400 ml beef stock
3 bai leaves
4 sprigs of fresh thyme
75 gr lardons
20 ml skimmed milk
salt and pepper
vegetable oil and margarine
Instructions
Add to a braiser pan vegetable oil or margarine, the herbs, celery and onion, sweat for a few minutes and add the lardons. Cook for a few minutes. Add the minced beef. Season with salt lightly and pepper and add the beef stock. Simmer uncovered for 20 minutes to reduce the stock by 2/3 and remove the herbs.
In pre-heated oven at 180 degrees C bake the sweet potato and carrots splashed with some oil and seasoned with salt and pepper. Cook till soft. Wize in a food processor with milk till smooth, season to taste with salt and pepper.
Transfer the mince to an ovenproof dish, top with the mash and swirl with a fork. If you wish to freeze it, let is chill first. Bake for 20 minutes in pre-heated oven at 180 degrees C till the mince is bubbling through at the edges. Let rest a few minutes and serve.
Notes
on www.leeksandhighheels.com by Sandra Slawinski