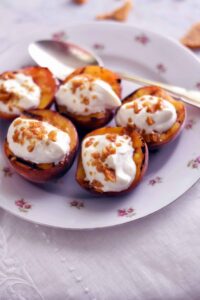 Honeycomb
Ingredients
butter for greasing
100 gr caster sugar
3 table spoon golden syrup
2 teaspoon bicarbonate of soda
Instructions
Grease a 20cm square tin with the butter.
In a deep saucepan, mix the golden syrup and sugar. Over gentle heat and by constant stirring until the sugar is melted  and all sugar grains have disappeared. Don't let the mixture bubble.
Once completely melted, turn up the heat a bit and let it simmer until it because an amber colour. Remove from the heat and add the bicarb and beat with a. wooden spoon until observed and tip out into the tin immediately.
Leave the mixture in the tin to cool down for about 2 hours. When hard, tip it out of the tin and smash into pieces.
Recipe by Leeks and High Heels at https://leeksandhighheels.com/my-grilled-peaches-with-cardamom-whiskey-cream-and-honeycomb/