I seem not to be able to resist having apples in the house, regardless if they are in season, which is soo much against my food philosophy . But I like making my own apple sauce and apple cake. Today I added a little rum and rose petals to the frosting and I was pretty happy with the result.
In honour of the Chelsea Flower Show this week in London. I share my recipe for this apple cake with rose petals. I am a HUGE fan of the Flower show and unfortunately can't attend this year but relish watching the coverage on the BBC. This Flower show awards growers, designers and anything garden related products. A Gold Medal is the highest accolade to obtain and the Show Gardens on the Main avenue are simply spectacular. There is the great marque where every plant, flower, fruit and veg proudly shows off their best. It is a feast for all garden lovers.
I love using rose petals in my baking to decorate for sure but using rose water I discovered it when living in Israel now years ago. The delicate flavour is just so fabulous and often used in Middle Eastern desserts . In this cake recipe I didn't add rose water as the rum is overpowering anyway but the dried Damascus rose petals give it a magical touch . This boozy cake  is just such a  delight. Hope you enjoy it!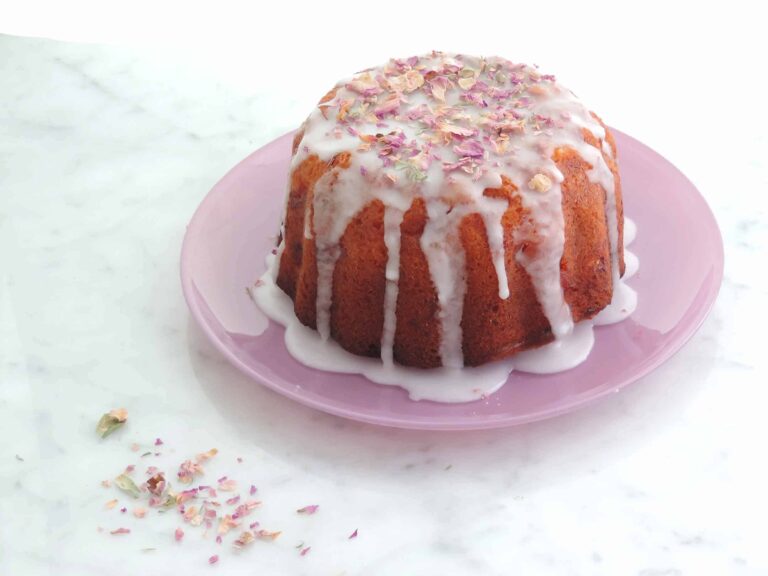 Print
My boozy apple cake with rose petals frosting
Ingredients
130 gr all-purpose flour
1 teaspoon baking powder
pinch of salt
110 gr unsalted butter at room temperature
130 gr sugar
2 large eggs
3 tablespoons dark rum
2 apples, peeled, cored and cut into 2 cm cubes
50 gr powder sugar
hand full of dried rose petals
Instructions
In a small bowl whisk together the flour, baking powder and salt.
In a different bowl using a mixer (either handheld or stand mixer) cream the butter with sugar till lighted in colour. add the eggs one at the time while beating them combining well. Add the rum. Add the flour mixture and mix to combine.
Fold in the apples with a spatula and pour the batter into a greased baking pan.
Bake in pre-heated oven for about 45 minutes, check by pricking a steel skewer in the middle. If no batter stick to the metal than it is ready to come out of the oven.
In a small bowl add the powered sugar and add 1 teaspoon of water. Combine to a paste and adjust the consistency by adding little drops of water. You a looking for a paste that is slowly going to run down the cake.
When the cake has cooled, pour the frosting onto the cake, sprinkle the rose petals and serve.
Notes
by Sandra Slawinski on LeeksandHighHeels.com