My hands-on seasonal dinner party workshops at the LHH studio in Brussels, Belgium will give you the confidence to entertain at home with flair and not be locked away in the kitchen. You WILL impress your guests with beautiful presented, delicious, seasonal dishes and a gorgeously laid table. I will proof to you that you already have everything you need at home to shine. How does that sound to you?
So roll up your sleeves and let's dive into effortless entertaining at home.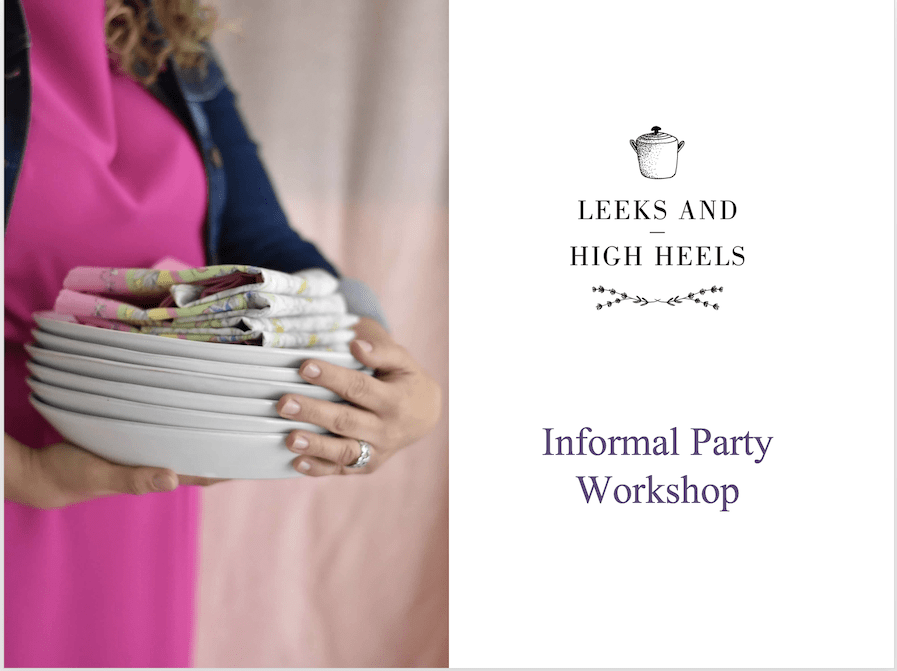 Seasonal Dinner Party workshops:
Introduction to informal entertaining  – Saturday 13 Oct 2018 – You will learn how to create a simple yet yummy menu, how to stress free plan with the REAL Party Method, and style your food and your table that will whaw your guests. And learn how to take the BEST Instagram-able pics.
Here is a fraction of what we will cover:
The REAL party Method – It took many years and many failures for me to perfect my dinner parties at home. NOW I want to share with you how I do it, and I wish I had known this all those years ago. There is only one thing you need, yes only ONE thing to turn you in the perfect hostess. I call it the "REAL Party Method".

I developed this method easily applicable to all types of parties at home whether you have 3 months, 3 weeks, or 3 days to get ready for the party. This simple 10 step plan will have you

enjoying your party at home in style.
Seasonal menu tips – demystifying seasonal cooking and where can you find what in Brussels.
Tips how to stick to a budget and still have a stunning party.
How you can incorporate shop bought ready made items when pressured for time?
How to cater to allergies and dislikes by your guests, who may have forgotten to tell you in advance?
How to style and plate up lovely food – HANDS ON plating up serving dishes and individual plates.
Learn with what you have at home in flatware, stemware and dishware to pull off a grand informal table.
3 steps to a perfect table setting – HANDS ON creating a beautiful inform table with a gorgeous budget friendly but stunning seasonal centerpiece and set the mood of the party.
How to manage your PRE party prep time efficiently so you will have everything under control and be ready to greet your guests.
How to plan your party timeline so you will enjoy your party, stress free and in high heels while impressing your guests.
And I will answer all your party questions over a delicious lunch (at the table you set) I will have cooked for you ( and you will have plated).
What to expect:
4 hour hands-on workshop
Small group of 6 participants per workshop only
Location: LHH Studio Brussels, Belgium
Date: Saturday  13 Oct, 3 Nov and 1 Dec 2018
Time: 9H30 to 14H
Held in English (French and Dutch spoken as well)
€199 / person / workshop
You would like to attend this workshop? Contact me at Sandra@leeksandhighheels.com
and if you book NOW you will get these 2 BONUSES:
– My downloadable REAL Party Checklist, a comprehensive 1 pager checklist so you no longer will skip any step towards that perfect party at home.
– My seasonal E-BOOK with autumnal recipes and menus, ready for you to copy and cook and impress your guests.
Because I feel generous today, if you book your workshop of choice before Friday 14 September noon, I will give you a 50% discount, that's right, 50% discount . You will pay NOT €199 but €99.5 for this workshop.
If you sign up for my newsletter, and book NOW, in the next 48 hrs, I will throw in this additional 30% discount for the package of 3 workshops. Instead of paying €199 x 3 = €597, you will pay NOT  €497.5 either. ….. NOPE, you will pay for the package of 3 workshops only €349.
Reserve your seat NOW. Did you miss the deadline, shoot me an email and let me see if I can still offer you the discount!
Email me at Sandra@leeksandhighheels.com
I look forward welcoming you!
Cheers
Sandra