Brabant, a province in The Netherlands near the Belgian border, is awarded region of gastronomy of 2018, naturally I had to check that out. I discovered the cities Eindhoven, Tilburg and 's Hertogenbosch and have some good foodie hotspots to share with you. Vincent Van Gogh was from this area and had a distinct love for potatoes, shared by Michelin star Chef Soenil Bahadoer, who's dish inspired me to make these lovely turmeric potato waffles with an herby cream cheese. 
BRABANT – I created a little google map for your ease, click here for the map. About 100 km North from Brussels starts North Brabant, often just called Brabant. It's capital 's Hertogenbosch is a lovely bijou historical city which has a lot to offer. Their art museum showcases some amazing early works from Van Gogh, definitely worth a peek.
The well-know kids ( actually for everyone really) amusement park, is in my opinion MUCH better than Disney as this land is full of fantastical creatures and romance. Don't worry, they got the dead rides too for the young teens but I felt like 8 again at my recent visit. ( and yes I went on a ride and loved it!!)
The modern cities like Eindhoven and Tilburg offer a variety of artist expressions and sustainable innovations, I need to discover them more in depth.
The Noordkade in Veghel showcases a Proef fabriek = a tasting factory, where new food concepts are launched and tested to an eager audience but the space offers soo much more.
REGION OF GASTRONOMY – This agrifood region is celebrating and showcasing for 10 months some spectacular foodshare moments and food sustainability projects for young and old. Check out their very helpful website for more info www.Brabantcelebratesfood.com 
FOOD SPOTS – now what I highly recommend you check out are:
Emma and Pinkie in Eindhoven – a restaurant, bar and patisserie all in one, click here. Try "Testing Tuesday", where dinner is served at a discounted price but you are required to give your opinion; you are the chefs guinea pig! Most of all do try the patisseries, they are DELISH.
Pieperz in Noordkade Veghel – Try some really good fries! They researched to find the best potato to use, the best fat and the best techniques to bring you fries like you have never tasted before.
Pop up GAST in 's Hertogenbosch – discover Michelin star chefs serving up their best in a lovely chapel in 's Hertogenbosch and while you are in town, make sure you taste one of their bossche bol, a choux pastry filled with cream and topped with chocolate – a must!
PILLOW TALK – where to stay, plenty of more ideas on the website visit Brabant
De Blauwe Pauwe ( blue peacock) in 's Hertogenbosch  is a lovely mansion from 1901 turned B&B with lots of authentic charm and modern comforts. click here
Boutique hotel Glow in Eindhoven located smack in middle of city center is the best point to repose in between shopping and food discoveries. click here
PLAN YOUR TRIP – a road trip by car for the weekend is definitely the most flexible way to travel from Belgium. However I went by bus to Eindhoven and used trains to move between cities and found it very easy and inexpensive.
Check out www.VisitBrabant.com and www.Brabantcelebratesfood.com  to plan your trip.
MY WAFFLES – One of Chef Soenil's first tasters we got served was a little potato waffle with lots of Indian spices. Van Gogh reportedly loved potatoes ( not sure if that was to eat or paint) and this inspired me to make these yummy ( and easy) potato waffles with turmeric and herb cream cheese for breakfast. The very kitsch ( yes i can say it) plates were used my families restaurant (soo 80ties right) but my dad picked them up in Japan at the Narumi factory and loved them, oddly enough years later they are perfect for this post!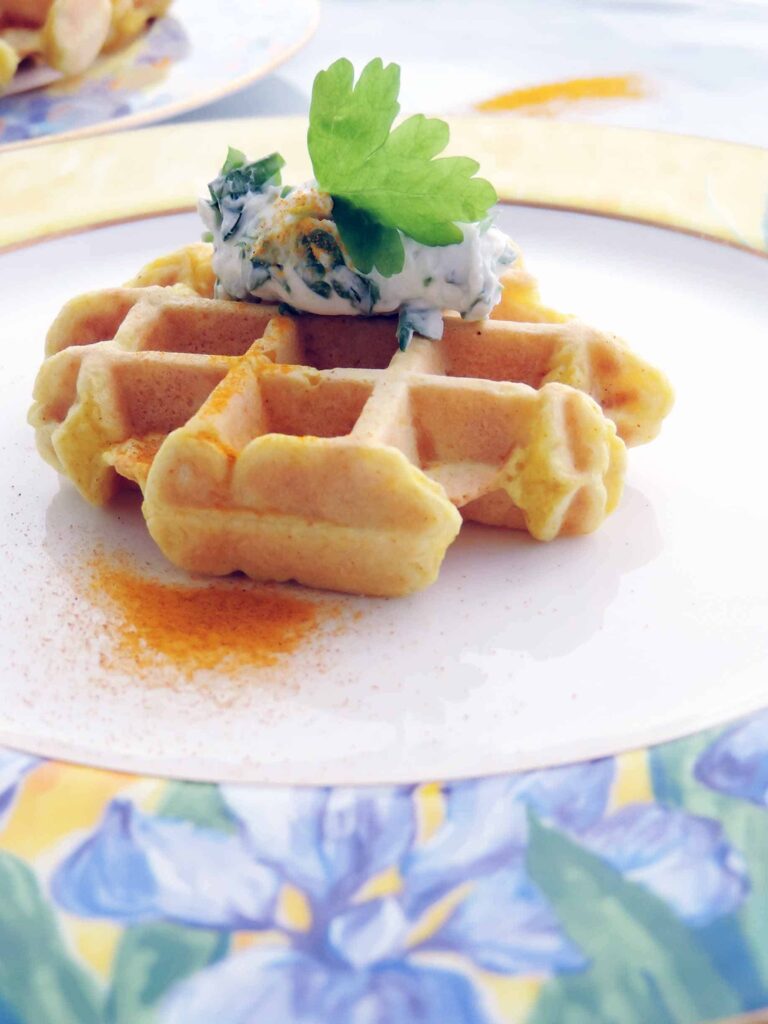 Print
Potato and Trumeric Waffles
Yield 6 waffles
Ingredients
350 gr mash potatoes, well seasoned
1 tablespoon turmeric
40 gr flour
2 eggs
salt and pepper
50 gr cream cheese
fresh herbs like chives and coriander, chopped
Instructions
Preheat your waffle iron according to manufacturer's instructions.
Combine mashed potatoes, turmeric flour and eggs, season with salt and pepper in a large bowl until homologous.
in a bowl combine the cream cheese and fresh herbs and reserve in fridge.
Scoop  about 2 table spoons of batter into the center of the waffle iron and close the lid. Cook till golden brown, remove and repeat. 
serve with a  dollop of cream cheese
TIP: if you make the mash potatoes in advance make sure to reheat them a little when adding to the mixture.
Notes
recipe on www.LeeksandHighHeels.com by Sandra Slawinski