Once upon a time there was a late summer wedding planned outside of Bordeaux ; alas Cupid had other plans and the wedding got cancelled. Stuck with non-refundable airline tickets, we made it a discovery weekend with friends.
I had never been to Bordeaux and truth be said I tend to prefer Burgundy wine but I am always up for discovering a new place.
From its early Celtic settlements in 300 BC, everyone has passed through Bordeaux: Romans, Basques and several Dukes fighting each other for the land near the river. Its glory days were in the 18th century and Victor Hugo loved it so much he once said: "Take Versailles, add Antwerp and you have Bordeaux"  It is a beautiful authentic city and easy to get around. I highly recommend it for a 3 days weekend get away!
We were extremely lucky to have been able to book rooms at this AB FAB luxury guesthouse in town called "La Course". The rooftop suite not only has an amazing stargazing glass roof but also has a private outdoor heated plunge pool. It was a little piece of heaven. I think it took me all and
about 5 minutes to rush to my room, change into my bathing suit and dip right in. A little while later champagne was served: life is good!
Each room has its own individual identity with a very high spec finishing; truly luxury at its best. Continental breakfast was served outside and should you be in dire need of a little glass of wine before heading for bed, swipe your room key and the machine will pour you a glass. How very practical indeed! The common living room with imposing fire places must be a joy in winter . The wine cellar was stunning, I can just see magical private events taking place there.
As the train to Saint Emilion was cancelled we decided to discover Bordeaux city and walk around. In desperate need to honour the great wines of Bordeaux but with large desire to return to our rooftop pool; we all agreed unanimously we would select each a bottle of wine that has a personal significance and hold our own wine tasting… in the pool!
6 friends = 6 wines (Saint Julien, Chasse-Spleen, Saint Estephe, Saint Emilion, and 2 Margaux) and lots of stories: childhood memories and family traditions, sharing wine on a first date or like in my case, I described what  like in wine and the store keeper recommended this one. And my mother always said: "You can't go wrong with Margaux!". Most of us ended up preferring the last 3.
After sharing our stories and tasting the wines, we put our knowledge to the ultimate test of blind tasting. Would you recognize at very least your own wine? I would not ! So I volunteered to officiate the blind tasting – maybe it was the wine ( am sure it was) and some taking the competition very seriously but we never laughed so much, my cheeks hurt – and of course nobody got all 6 wines correct. A few did at least find their own wine and a few more (congrats Patty!)… meanwhile I just drank my favourite …
We did 2 splendid restaurants in town:
Le Chien de Pavlov – an uncomplicated bistro with simple tasty food. I love duck and in France you will find it on most menus and so here I tried the tartare of duck, yes raw duck – it was delish! The dishes were well balanced – delicate and very subtle in flavours. And they recommend a great red wine, Chateau Hennenelle 2008 Haut Medoc, for the fraction of the price in Brussels.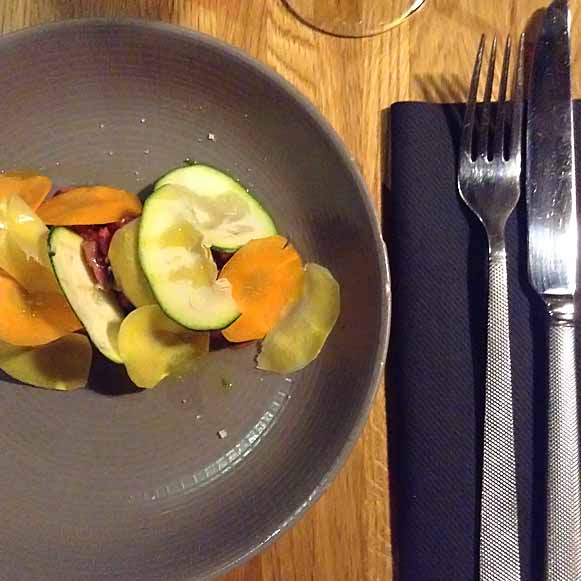 Le Taquin – Cocktail bar extraordinaire and bistro by the boardwalk near the river, came recommended in Elle magazine and did not disappoint! The hipster bartender made me something vodka ( he had me at vodka) sour with roses, yes I had more than 1. The food is to share or just order multiple little sample plates – out of pure gluttony as it was sooo good, we ordered second main courses AND dessert – the salt crust beetroot was truly inspiring, that mini beef Wellington was to die for (had 2 plates!) and the little super ripe figs and home made almond biscuits were amazing. Salivating just thinking about it now!
PS prices are very affordable in Bordeaux; you eat and drink very well for little cash!