I am excited to announce the collaboration between Wine Fever and Leeks and High Heels. ( yipee – clap-clap-clap)
Today's recipe is spicy beef tacos with avocado cream, cheddar, radicchio and coriander paired with 2 gorgeous Portuguese wines by Filipa Pato.
Our collab: Lola recommends a sublime white and red wine to savor with my recipe. She shares a little about the wine maker and I prepare for you an easy step-by-step recipe and give you the fragrant spice you need to make the dish sing. When possible the recipe will come with a veggie ingredient you can substitute so our vegetarian friends can join in the fun too.
How does the song go : "Love and marriage, go together like horse and carriage" ? Well, that's how I feel about wine and food: they go together. And contrary to what you may think I know very little about wines. I know enough to order in restaurants and what to serve at home but in a wine bar I like to be directed by the connoisseur and discover new wines from close and far away regions. I frequent several wine bar hot spots in Brussels but fell in love with Wine Fever and it's boisterous hostess with the mostess owner Lola. She has some incredible little finds and some superb distinguished jewels in her wine cellar but truly excels in recommending the perfect wine just for you. And now we are going to pair wine with food for you!
THE FALL COLLAB –  I made gorgeous spicy ground beef and melted cheddar tacos with avocado cream, shredded radicchio and fresh coriander served with a lime wedge. It is easily turned into a vegetarian bliss by replacing the beef with chickpeas. Lola discovered 2 sublime Portuguese wines to enjoy with this fun dish to cook together and share.
LOLA RECOMMENDS:
She has selected 2 wines from the Portuguese region of Bairrada, a rural province located between the granite hills of Dão and the Atlantic coast (midwest Portugal).
These wines are created by Filipa Pato, the daughter of the famous Luis Pato, thé iconic wine maker of the last 30 years in Portugal. She developed wholehearted, biodynamic and pure wines focused on fruit and drinkability.
The white wine (13,10€) :
Filipa Pato, Blanc 2016
Grapes : 50 % Bical & 50 % Arinto
The Bical grape brings you citrus flavours and Arinto richness and structure. The nose has hints of citrus and freshness. In the mouth there is structure, a light buttery flavour, hints of citrus and an iodized finish. Persistent and a long wine.
The red wine (13,10€) :
Filipa Pato, Baga 2016
Grapes : 100 % Baga
The Baga grape has a thick skin yielding wines big in tannins and character but with a shorter maceration like here, it gives a juicy, greedy wine with hint of cherry and red fruits. Fruity and a light wine.
SASA'S RECIPE AND SPICE:
I have for you a fab spicy beef taco recipe which can easily be vegetarian by switching the beef for chickpeas.
A taco is a Mexican dish consisting of a fried tortilla, folded, with various yummy mixtures.
I recommend you buy the taco shells or corn tortillas versus making your own, but feel free to do so of course. The 9 ingredients needed can be found in a regular supermarket and I give you a little bag of Chili powder fresh from the Istanbul Bazaar picked up this weekend by yours truly. I recommend for medium heat you use a pinche or 2 in the recipe for 2 people (6 tacos/tortillas). But feel free to turn up the heat as I gave you a little extra ( total 1/4 teaspoon). It's a recipe that requires only 15 minutes of prep time and 15 minutes of cooking time so it's a great week dinner option.
HOW TO ORDER THE WINE ( Belgium only)  – You can pre-order the wine by sending me an email Sandra@leeksandhighheels.com. We hold your order for 5 work days so you can pick it up at the shop from Tuesday to Saturday between 16H and 21H. For longer reservations and for orders from 6 bottes we require a pre-payement, account info will be supplied upon order. (If needed we can look into delivering it to you or your friends and family in Belgium at extra cost).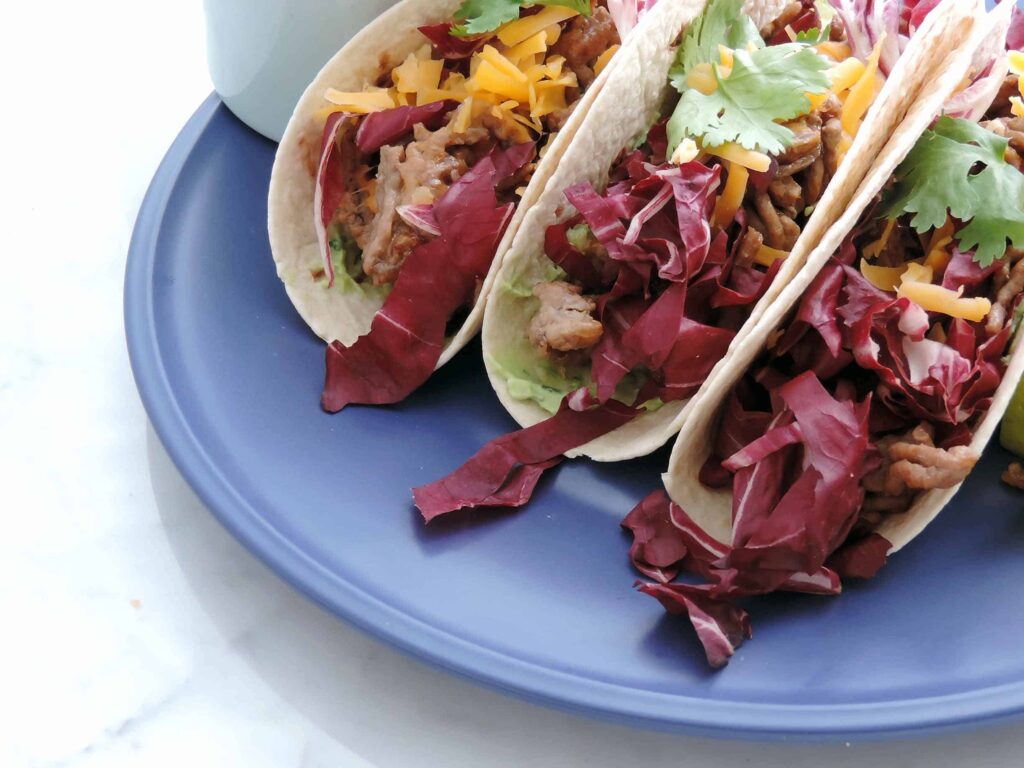 Print
Sasa's Spicy Beef Tacos and Lola's Wine Picks
Yield 6 tacos
Ingredients
6 taco shells, store bought - or corn tortillas
400 gr ground beef - vegetarian: 1 can chickpeas, cooked
2 tabel spoons yoghurt, plein
80 gr cheddar cheese, grated
1 avocado
1 bustle fresh coriander or flat parsley
1 red radicchio salad
1 tablespoon chili flakes
1 tablespoon vegetable oil
1/2 lime juiced, 1/2 lime cut in 2 wedges
salt and pepper
1/4 teaspoon Chili powder ( provided with the wine)
Instructions
Chop the radicchio leaves in shredded julienne size. Chop finely the coriander or parsley, reserve a few leaves.
Dice the avocado after peeling and mash with fork or pulse in food processor to a chunky paste. Add to the mashed avocado the lime juice, the yogurt and chopped coriander or parsley.
Heat the vegetable oil in large skillet, cook the onion till soft and add the ground beef (or chickpeas), season with salt, pepper and chili powder and cook till no longer pink (for the chickpeas cook for 5 minutes. Add the cheddar cheese and stir until completely melted.
Take the taco shell (or tortilla) and assemble: layer avocado cream, spoon in some beef mixture ( or chickpeas) and layer shredded radicchio on top, sprinkle some reserved coriander leaves and serve with a lime wedge.
Notes
recipe on www.leeksandhighheels.com by Sandra Slawinski